August 9, 2017 - 1:05pm
STOP-DWI Night at the Ballpark rescheduled for Wednesday, Aug. 16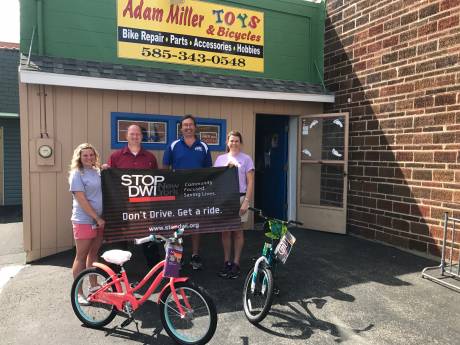 Come on down to the Batavia Muckdogs game and enjoy a safe summer night with us! STOP-DWI Night at the Ballpark is happening on Wednesday, Aug. 16, gates opening at 6 p.m. The Batavia Muckdogs are playing the Williamsport Crosscutters.
(This game was originally scheduled last Friday, Aug. 4, but was canceled due to rain.)
Genesee County STOP-DWI and the Genesee County Youth Bureau are hosting this family event. 
The first 300 youth under the age of 16 get in free and there are Muck Bucks given to the first 200 youth to use toward items in the ballpark. There are an additional 500 giveaways and prizes for everyone. Fun and interactive education booths and displays will be on hand. Participating agencies include the Sheriff's Office, City Police, Le Roy Police, Probation, the Genesee County Youth Bureau and Genesee County STOP-DWI.
A grand prize giveaway, a youth bike, sponsored by Adam Miller Toy and Bicycle will be on display and drawn that evening. So join us for a great night at the ballpark and the Friday night fireworks!
Sponsors that are helping make this event possible include: Genesee County Sheriff's Department Assoc., NYS Assoc. of Chiefs of Police, UMMC, Batavia Police Benevolent Assoc., Le Roy Moose Family Center, Batavia Lions Club, Western NY Assoc. of Chiefs of Police, GCASA Prevention, Red Osier Landmark Restaurant, Polish Falcons Nest, Gerace Realty LLC and Tops Friendly Markets.
Pictured above: Matt Landers, STOP-DWI coordinator; ; John Roche, owner of Adam Miller Toy and Bicycle; and Jocelyn Sikorski, STOP-DWI Board chair, and Chelsea Green with the Genesee County Youth Bureau.