October 29, 2020 - 2:20pm
Tellawoman, Il Mago, Monti big winners at Batavia Downs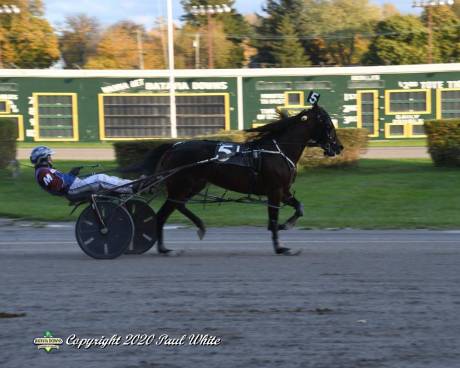 Photo: Tellawoman with driver Jim Morrill Jr. 
By Tim Bojarski, for Batavia Downs
On a damp Wednesday evening (Oct. 28) at Batavia Downs, a pair of $8,500 Opens produced runaway winners while the meet's third winningest driver inched closer toward the leaders. 
The night opened up with the fillies and mares Open I Handicap where Tellawoman (Jim Morrill Jr.) left with the gate and led at every point of the mile. After escorting the short field of five to the half in :58, Morrill stepped on the gas and Tellawoman sped away in a :28.1 third panel, stretching out to a 3-1/2 length lead at the point. As they rounded the last turn Tellawoman kept on going and kicked-away to a 5-3/4 length advantage at the wire in 1:56.1. 
It was the third win in the last four starts for Tellawoman ($8.00) who is owned by Rose Campbell and trained by Russell Bratt.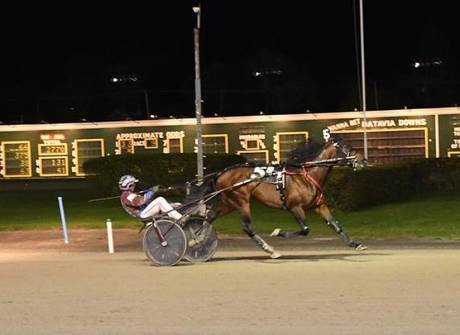 Later in the program, Morrill also won the co-featured Open I Handicap trot with Il Mago (Jim Morrill Jr.) who was utterly peerless this night. Il Mago left and established a six length lead at the quarter in :27.2. He extended that to 12 lengths at the half in :56 and 15-lengths by three-quarters in 1:25.2. Morrill had Il Mago wrapped up at that point and he just sauntered across the wire by 6-3/4 lengths in 1:57.4. 
It was the sixth win of the year for Il Mago ($4.20) and owner Mike Torcello. Gerry Sarama trains the venerable 11-year-old who has now won 52 races lifetime. 
Driver Drew Monti won five races on the card including a natural hat trick in races five through seven. Monti scored with Lucky Guess (2:01.2, $5), Keystone Keen (1:57.2, $4.70), Barn Beast (1:59, $11), Mean Pauline (1:58.1, $5.40) and Carly Girl (1:57, $5). Monti currently has 57 wins and sits in third place behind the leading Jim Morrill Jr. who has 70 wins and Billy Davis Jr. who is second with 61 wins after tonight. 
Kevin Cummings led all trainers on Wednesday winning three races during the proceedings. 
Racing resumes at Batavia Downs on Saturday (Oct. 31) with a special Halloween matinee post time of 1:15 p.m.