May 29, 2019 - 3:07pm
Thirteen GC volunteer firefighters learn interior operations skills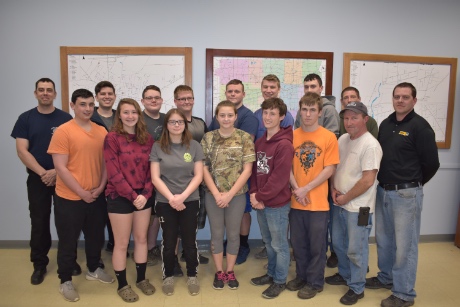 Submitted photo and press release:
The Self-Contained Breathing Apparatus Interior Firefighter Operations (SCBA-IFO) program is the second level to becoming a Level I Firefighter.
Recently, 16 firefighters from eight departments from the region -- including 13 from Genesee County -- were presented the knowledge and skills in SCBA use.
These skills include fire control, initial fire attack, search and rescue, survival, tactical ventilation, vehicle fire and structure fire skills along with company operations.
The 50-hour program concluded with a graduation ceremony on May 11.
Genesee County residents presented with certificates of completion were:
TOWN OF BATAVIA
Bryan A. Moscicki
Ian A. Sanfratello
Tyler J. Stewart
BETHANY
CORFU
Jayden D.  Eck
Casey L. Felski
Megan G. Stiles
Elizabeth S. Tebor
Benjamin Trapani
ELBA
OAKFIELD
Garrett M. Gibson
Noah R. Toal
PAVILION