September 17, 2018 - 2:25pm
Thursday is Patti Pacino's night to shine in Buffalo when the Girls Scouts of WNY honor her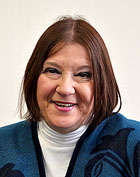 In July we announced that Patti Pacino was named one of eight women to be honored Sept. 20 by the Girl Scouts of Western New York.
Today, the organization provided more information about her many deeds which garnered the distinction for which she will be feted Thursday in Buffalo.
Press release:
Girl Scouts of Western New York will recognize eight honorees at the 2018 Women of Distinction Dinner & Awards Ceremony on Thursday, Sept. 20, at 5:30 p.m. at the Hyatt Regency Hotel Buffalo.
One of the eight distinguished 2018 Women of Distinction is PattiAnn ("Patti") Pacino, of Genesee County. Pacino has served as Second Ward Councilwoman for the City of Batavia since 2010. Prior to that she served as alumni coordinator for Genesee Community College and Career Center Coordinator for Batavia High School.
While on city council, she has served as liaison to and board member of Batavia Business Improvement District (BID), co-chair Committee Volunteer Selection Committee, and Memorial Day Parade Committee.
She is also chair of membership for Zonta Club of Batavia-Genesee, as well as past president. She serves a Genesee-Orleans Counties Arts Council Board member. She is a member of Kiwanis Club of Batavia and also served as a past president. She served as a member of the Alumni Committee, Design Teams for Education Day & Arts, Diversity Day, and Golf-Bocce Tournament Committee for the Leadership Genesee Class of 2002.
She was a member of Girl Scouts of Genesee Valley Inc. as a member of the Alumni Committee, past manager of the Big Bend Service Unit, a troop leader, Older Girl Consultant, Outdoor Consultant, Council Trainer, and Delegate to the Genesee Valley Council.
She received a BA in English from SUNY Potsdam. She also holds certificates in Montessori teaching and American Red Cross First Aid.
She has received awards and honors for City of Batavia Genesee County Youth Bureau's Youth Worker Award 2001, Kent State University Career Counselor of the Year Award 2001; Batavia High School Outstanding Worker 2003; Zonta Club Woman of the Year 2004; Geneseean of the Year 2004; Kiwanian of the Year 2007; Leadership Genesee Outstanding Alumnus of the Year 2008; Chairman and Hostess of Genesee Community College Scholarship Fundraiser, Encore! 2017; and Zontian of the Year 2017.
She is married to James Pacino and lives in Batavia.
The honorees were nominated by members of the community because of their demonstrated leadership in their careers and in their communities through public service. These women are considered role models for all girls, and in accepting this award, they commit to mentoring the young women involved with the Women of Distinction event.
This program is part of the nationwide Girl Scouts of the USA program and is designed to recognize the achievements of women, provide mentoring opportunities for older Girl Scouts and fund local Girl Scout educational opportunities and programs for girls 5 to 17 years of age. 
About Girl Scouts of Western New York
Girl Scouts of Western New York (GSWNY) serves nearly 15,000 girls and 7,000 adult volunteers across the GSWNY jurisdiction, including Cattaraugus, Chautauqua, Erie, Genesee, Livingston, Monroe, Niagara, Orleans and Wyoming counties. The council's administrative service centers are located in Batavia (on Jackson Street), Buffalo, Jamestown, Lockport, Niagara Falls and Rochester.
Girl Scouting builds girls of courage, confidence, and character who make the world a better place. Through the Girl Scout Leadership Experience, girls discover their personal best and prepare for a positive future, connect with others in an increasingly diverse world and take action to solve problems and improve their communities.
(Inset file photo from 2009.)
September 17, 2018 - 2:54pm
#1