April 27, 2017 - 3:50pm
Two members of GC Soil & Water Conservation District honored at statewide symposium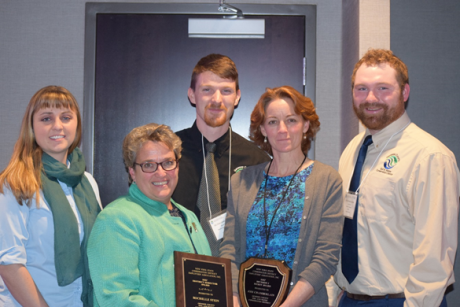 Submitted photo: Holding award plaques are honorees Shelley Stein, left, and Jodi Chamberlain. (Names were not provided for the other individuals.)
Press release:
Two awards were presented to Genesee Co. Soil & Water Conservation District personnel last month at the NYS Conservation District Employees' Association Inc. and NYS Soil and Water Conservation Committee's 2017 Water Quality Symposium in Syracuse.
Congratulations to Genesee Co. SWCD Director and Chairperson Shelley Stein on receiving the District Director Award.
This fitting honor was bestowed upon Stein as she exemplifies the drive and determination all Districts should seek to head their organizations. Her knowledge of agriculture, passion for Genesee County, and commitment to conservation make her a commendable board member. Outside of the District board meetings Director Stein always has her Soil & Water hat on. She represents the District on the Genesee County Ag and Farmland Protection Board, and the Ag and Farmland Protection Steering Committee.
She also routinely attends CDEA and NYACD functions as well as Division meetings and Regional Managers' meetings. When a topic arises where Soil & Water can help, she is sure to refer the District, whether it's at the Genesee County Legislature, in her town of LeRoy, or in a discussion with a neighbor. As the Chairman of the Board she has worked hard to ensure that Genesee Co. SWCD is well perceived by the taxpayers, especially farm owners.
Congratulations also to District Clerk and Treasurer Jodi Chamberlain. Jodi was awarded the Division 1 Merit Award for her continuous hard work and dedication to the District.
In a beautiful presentation, the MC gave the crowd an overview of the many wonderful contributions Chamberlain has made to assist in achieving the mission of conserving natural resources. Jodi is a breath of fresh air and we are proud to say that she is extremely deserving of this honor. She goes above and beyond to assist county residents, staff and partners. Everyone in attendance enjoyed the evening as Jodi was acknowledged by her peers as "one of the best!"
Both women attribute the success of Genesee County Soil & Water to the stellar work ethic and terrific team effort demonstrated by all the staff.