May 5, 2017 - 6:25pm
Two new games, wicked rides, Loganberry, and more -- Darien Lake Theme Park is ready for Season 54 Saturday
If you took a game like "whack-a-mole" and merged it with a ride that goes up to 20 feet in the air, mixed in some friendly competition, the concoction would be a game known as "Strike-U-Up," which will be one of the new fun options at Darien Lake Theme Park this year.
Western New York's largest family fun zone opens for its 54th season tomorrow, May 6.
Located next to the Rolling Thunder roller coaster, Strike-U-Up straps two riders in special seats as two other people hammer away on large switches at the game's base, propelling the riders in the air. The person to make their partner reach the top first, wins.
Here's a YouTube video of the game at park in Florida:
Slapshot, the other new game, is based on ice hockey, and it's a spinoff of the National Hockey League's Accuracy Challenge.
You don't need ice skates or special clothes. Participants have a set amount of time to shoot a hockey puck at four targets within a regulation-size net. The company All Black Hockey Sticks donated Darien Lakes' supply of hockey sticks. Players can win some neat prizes, including team jerseys.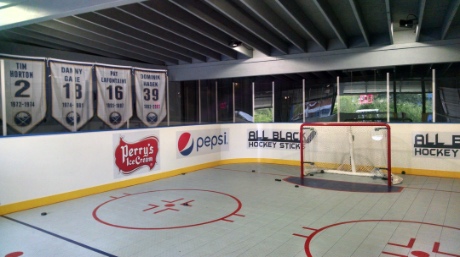 The new indoor hockey game is located where the shooting gallery used to be next to the world-renowned Viper, the park's signature steel coaster featuring five inversions, a blackout tunnel and a 70-foot drop that is decidedly not for the squeamish. (A special 35th anniversary party is planned next month for the wicked and beloved Viper.)
Well before, or well after, an engagement on the Viper, or Rolling Thunder -- and its 73-foot high, 20-foot wide steel loop that spins riders clockwise and counterclockwise -- you might want to try one of the new noshes at the park. For example, the big salty pretzels filled with warm, gooey caramel, or a hot juicy beef sandwich from the new Beef 'n' Beer stands, which also serve craft brews.
Loganberry soda is available at some locations in the park thanks to its new beverage partner, PepsiCo., which also sells the ever-popular Mountain Dew in its product line. Loganberry is popular in Western New York, parts of Southern Ontario, Canada, and in merry olde England where it is used to flavor English trifles and the fortified dessert wine, sherry. (But it was created in California by Judge J. H. Logan, of Santa Cruz, who cleverly combined the Aughinbaugh blackberry and red Antwerp raspberry.)
Of course, there are Anchor Bar wings, pizza, and that curiously toothsome ice cream treat, Dippin' Dots.
And let's not forget about all the great music that's in store at Darien Lakes this year, its 25th concert season. To commenorate the anniversary, Darien Lake and Live Nation have teamed up to offer concertgoers at the Darien Lake Amphitheater a free admission ticket to the theme park on the day of the show. 
As General Manager Chris Thorpe says "Where else can you ride coasters all day and rock out all night with the greatest stars in the music industry?"
A total of 23 shows are scheduled, including Lady Antebellum, Goo Goo Dolls, Train, Zac Brown Band, Third Eye Blind, Nickleback, One Republic, Kings of Leon, and John Mayer.
Saturday is designated as Season Pass Holder Appreciation Day, and each season pass holder will get an additional free bring-a-friend ticket good for any day this season, as well as a Buy One, Get One Free discount on the two newest games, four free fun tickets, and a souvenir mug.
The Darien Lake Theme Park complex sits on more than 1,850 acres and features more than a hundred rides; included in the entrance fee is the Barracuda Bay water park with more than 20 water attractions and a huge wave pool. A hotel is next to it and a camp site with 2,000 camping lots and some cabins.
For more information on season passes, concerts or accommodations, visit www.DarienLake.com.