July 13, 2016 - 7:12pm
Two possible drowning victims reported in the water at Indian Falls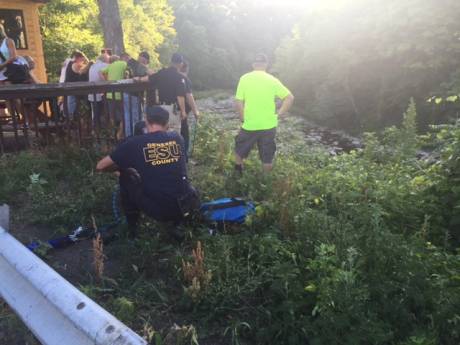 Possible drownings are reported in the falls by the Indian Falls Log Cabin Restaurant. Pembroke and Indian Falls fire departments are called to respond along with Mercy medics. The caller reports two possible victims are in the water at the falls and not coming up. The Alabama Volunteer Fire Department Chief is asked to contact the GC Emergency Dispatch Center.
UPDATE 7:13 p.m.: The command post is set up in the Log Cabin restaurant parking lot.
UPDATE 7:15 p.m.: The restaurant is located at 1227 Gilmore Road in Corfu. A trooper says one male subject who was found is not breathing. A Mercy Flight landing zone is being set up. "Looks like they're doing CPR." Onlookers at the scene are said to be a problem for first responders.
UPDATE 7:24 p.m.: Mercy Flight has a five-minute ETA. A responder with a backboard "for CPR purposes" is requested at the edge of the falls.
UPDATE 7:26 p.m.: Mercy Flight #5 out of Batavia has a three-minute ETA.
UPDATE 7:40 p.m.: Medics on scene, including Mercy medics and Mercy Flight personnel "are aware that it's a recovery mode at this point."
UPDATE 7:43 p.m.: Mercy Medic #3 is called to the scene for "firefighters with some abrasions."
UPDATE 7:45 p.m.: The chief in command at the scene reports there is one fatality and that it will take about 30 minutes to bring the male victim up and out of the area. It's unknown how long the victim may have been under water. There are no other victims. About 30 people were in the water at the time of the incident, according to the scene commander and other witnesses.
July 13, 2016 - 10:20pm
#1