Image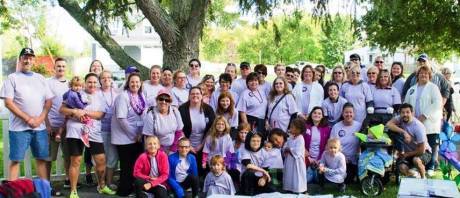 The entire Le Roy Village Green team from a previous Walk to End Alzheimer's (Brenda Houk is waering a purple lei on left side).
Submitted photo and press release:
Brenda Houk of Le Roy is acutely aware of the devastation of Alzheimer's disease. While enrolled at Genesee Community College in Batavia, she began an internship at Le Roy Village Green working with residents who had varying degrees of cognitive loss and after graduating, she remained at LVG as Assistant Activities director.
"My heart could not pull away," Houk said. "I have had residents come and go, have made connections with family members over the years that show how much Alzheimer's and other dementias affect others along with the person themselves. Seeing that is enough to want to make it stop and to find a way to prevent this disease from continuing."
Houk is doing that by leading the LVG team for the Walk to End Alzheimer's® in Batavia.
"It is sad thinking of your loved one, family, spouse, friends forgetting who they are, and who they love and share a life with. We can make a difference one person at a time."
The walk is a family-friendly event that will take place on Saturday, Sept. 22, beginning at 9 a.m. with registration and check-in at the Premier Genesee Center for Nursing and Rehabilitation at 278 Bank St. The walk gets underway at 10 a.m. with an opening ceremony
The walk route winds through the streets near Premier Genesee Center, and covers about two miles. Along the way, walkers will be entertained by local singers and more.
Participants start or join teams and raise funds for the Alzheimer's Association, which has a Western New York Chapter office in Williamsville.
There is no fee to sign-up, and there are incentives for reaching specific fundraising goals. All registered participants can enjoy free refreshments, access to basket and 50/50 raffles, entertainment and a keepsake pinwheel flower that can be personalized with their reasons for participating.
The majority of funds raised stay in WNY to provide free education programs, support groups, respite services and other resources for all impacted by dementia. A percentage of every walk donation is also targeted for research. Alzheimer's disease is an incurable, unstoppable disease that cannot be prevented and the Alzheimer's Association is the largest private funder of dementia research in the United States.
Registration is quick and easy online at alz.org/Walk or by calling (716) 626-0600. Walk-up registration is also welcome the morning of the event.
Early check-in is set for Tuesday, Sept. 18 from 3-7 p.m. at the Center. It allows participants to turn in donations, collect wrist bands for site access, pick-up their flowers, as well as earned medals and tee shirts, and purchase raffle tickets so they can avoid the lines and enjoy the all the wonderful components of this terrific walk!
Corporate support of the Walk is a critical factor in its fundraising success. The WNY Chapter is pleased to welcome new Platinum Sponsor Aetna, as well as returning Platinum Sponsors WDCX Radio and the law firm Cellino and Barnes. Other local corporate support comes from Merchants Insurance, Tim Hortons, The Manor House, Five Star Urgent Care and WCJW radio.
For more information about Alzheimer's disease, the Alzheimer's Association and local programs and services, visit alz.org/WNY or call 1.800.272.3900.