July 11, 2014 - 9:10am
Batavia pastor speaks at candlelight vigil for Batavia woman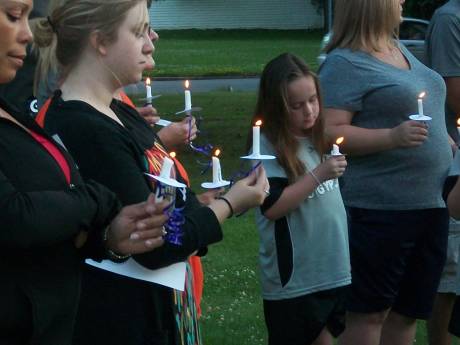 City residents gathered at the front lawn of the YWCA Thursday night for a candlelight vigil in memory of Nicole Sheehan. Sheehan, a former Batavia resident, was murdered by her boyfriend in Chautaqua County in June. She was 29 years old.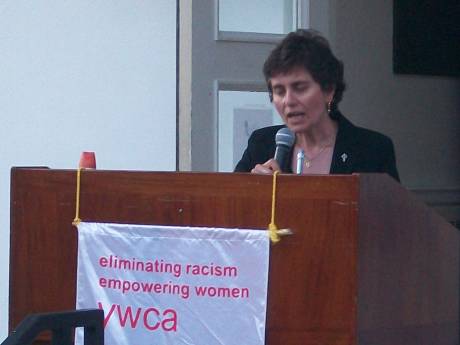 Roula Alkhouri, pastor of Batavia's First Presbyterian Church, called Sheehan's murder a "senseless loss" in her address to the crowd.
She noted that domestic violence is "ancient," and cited victims mentioned in the Bible -- including Dinah, the daughter of the patriarch Jacob, and Tamar, the daughter of King David.
Additionally, she called attention to the need for more awareness of domestic violence in our own times by sharing some startling statistics. According to Alkhouri, research shows that one in every four women will become the victims of domestic violence.
"How many relationships begin as stories of love," she said, "and then become stories of fear."
But she also had some words of hope -- and a call to action.
"Yes, there is ugliness and cruelty in the world," she said. "But the goodness and love in the community often outweighs this."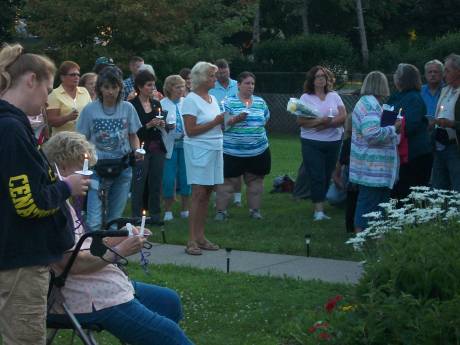 As the candles began to die out, Alkhouri encouraged everyone to "keep the candles lit in (their) minds, because bad things can only hide in the darkness."
"It's in changing who we are as a community that we'll make a difference in the world," she said.
As an example of the "light" she was talking about, she mentioned the YWCA. She expressed gratitude that Genesee County has a "safe place" where victims of domestic violence can come to hear that they are cared for, that it's not their fault, and that there is hope.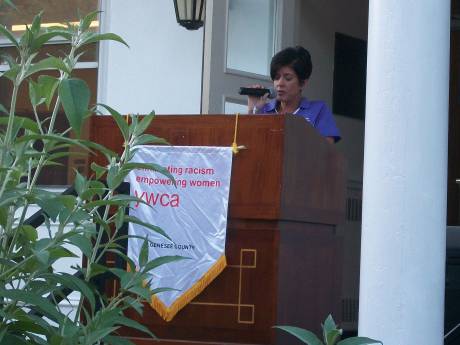 In addition to Alkhouri's address, the night included some brief comments by YWCA Executive Director Jeanne Walton and Domestic Violence Crisis and Prevention Services Director Cindy Earl, as well as some music and light refreshments.
For more information on the YWCA and its services to victims of domestic violence, call 343-7513 or visit their Web site.
July 11, 2014 - 11:24am
#1
Rest in Peace Nicole. My thoughts are with Sue and the rest of Nicole's family.