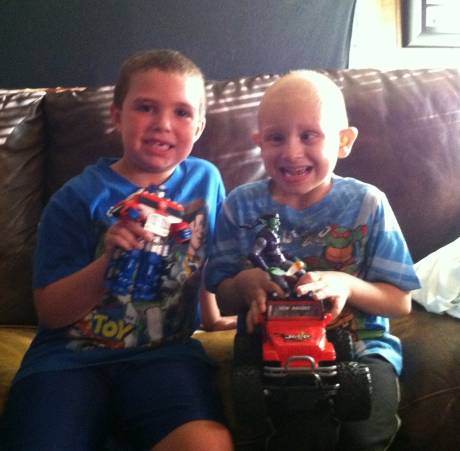 Thomas Ackley, pictured right, was one of the younger students in Debra Wolff's kindergarten class at Jackson Primary School last year. He was a little bit smaller than most of the other kids, and it took him a bit longer to catch onto the lessons. But his determination left a deep impression on his teacher.
"Once you showed him how to do something," Wolff said, "then he wanted to do it all on his own. It was an absolute joy to see his spirit."
So much of a joy, in fact, that Wolff presented Thomas with an award for his determination at the end of the year – even though he and his family had moved to Akron in March.
Something else happened toward the end of the school year as well. In late May, Thomas was diagnosed with cancer.
Thomas has Stage 4 neuroblastoma. He is now in remission, but has about six months of treatment ahead of him to make sure the cancer does not return. Emotionally and financially, he and his family continue to struggle.
That is why Batavia High School students, under the supervision of chorus teacher Dan Grillo, are giving all the proceeds from their upcoming Talent Show to the Ackley family.
The Talent Show, which features performances from both students and faculty, will be held at 7 p.m. Tuesday at the Batavia High School auditorium. The school is located at 260 State St. in the City of Batavia.
This annual event is run by students from the BHS chapter of the Tri-M Music Honor Society. 
"They're the ones who run everything behind the scenes," Grillo said.
According to Grillo, they run it like a musical – complete with a stage crew, a tech and lighting person, escorts for the performers, etc.
Each year, the Tri-M students aim to raise funds for a different charity or cause.
Grillo's son, Sam (pictured with Thomas above), was good friends with Thomas. Knowing about the Ackley family's situation, Grillo suggested them to his students as this year's beneficiaries.
"They (the students) liked the idea," Grillo said.
Most of the performances will be musical/vocal in nature; but there are a few surprises as well, including someone who plays the guitar and harmonica at the same time and a young man who does what Grillo calls "some pretty amazing yo-yo tricks."
"I've never seen anything in front of my eyes (with yo-yos) as good as this young man is," he said.
At the end of the night, everyone involved hopes to have raised enough funds to give Thomas some much needed help in his ordeal.
"He is a fighter," Wolff said. "And he does it with a smile – it's incredible to me."
The show is open to the public. A donation of at least $3 is requested from each attendee. For more information, call the high school at 343-2480, ext. 2000.
Photo submitted by Dan Grillo