April 17, 2014 - 9:26am
Bone marrow drive for Pavilion firefighter to be held Tuesday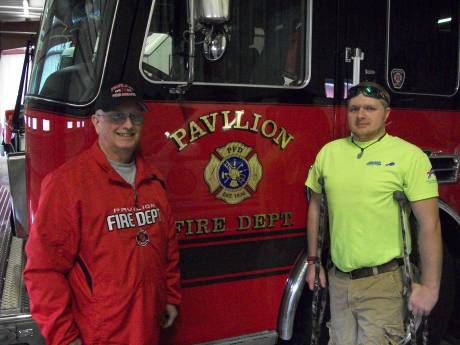 Bill Kegler, left, spent 22 years in the military and has been fighting fires since he was 18. Now he is fighting a different enemy, and hoping his winning hand gets dealt next week.
Kegler is a Pavilion resident and six-year member of the Community Fire Company; he is pictured above with Vice President Nick Wright. He is battling myelodysplastic syndrome (MDS), a disease that causes poorly formed or dysfunctional blood cells.
"I found out that there was something going on with my blood through the (Batavia) VA back in 2011," Kegler said. "They told me to see a hematologist (blood doctor), who diagnosed what I had through a bone marrow biopsy."
He has since been receiving treatment -- first from the Batavia hematologist who diagnosed him, and now at the Wilmot Cancer Center at Rochester's Strong Memorial Hospital. In addition to chemotherapy, his treatment includes experimental drugs that are part of a national clinical test.
"I get chemo treatments every month," Kegler said. "It lasts for seven days straight, and then I'm off for 21 days. Then it starts all over, and that will go on forever until they find a bone marrow match."
To that end, at the instigation of Secretary Kathy Wright, the Community Fire Company is hosting a bone marrow drive for Kegler from 5 until 9 p.m. on Tuesday. It will be at the Pavilion Fire Department Hall at 11302 Lake St. in Pavilion.
Anyone age 18 to 44 and in good health is encouraged to participate. There is no cost, and it only requires a few moments of people's time and a mouth swab.
"I would be very grateful to anyone who comes out," Kegler said.
Until then, he stays in high spirits.
"I think the biggest thing is all the support and prayers I'm getting from everybody I know," he said.  "And people I haven't even met are coming up to me and saying they have me on their prayer lists. My own spirituality is also going a long way in keeping me on an even keel."
Originally from Alden, Kegler has resided in Genesee County for more than 40 years. He and his wife raised their six children in Batavia, sending their two oldest to Notre Dame High School and the younger children to the Batavia City School District. Kegler has also lived in Oakfield and served as a member of the Oakfield Fire Department.
For more information, call Nick Wright at 813-1288.
April 17, 2014 - 1:02pm
#1
I am already registered with the NMDP. I encourage everyone to participate as it may save someone's life. I know several people who have received marrow donations, and it impacts them more than you can fathom. Most recently, my cousin received a transplant to treat his A.L.L. Leukemia and is now showing results of 100% donor. I hope the very same for this brave gentleman who proudly and selflessly served to defend our freedom and also to ensure our safety right here in the community. Again, I encourage EVERYONE that is able to register, to do so as soon as possible. Even if you are unable to make it to this event, check out www.NMPD.org to find out where you can sign up.