September 8, 2013 - 1:55pm
East Bethany man earns a living with woodworking talent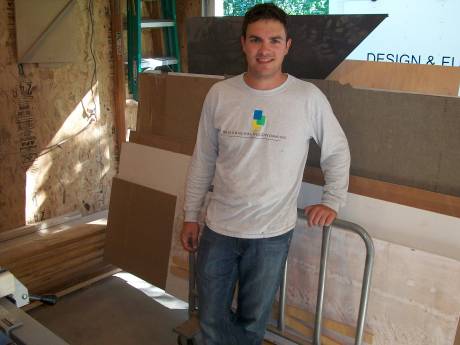 Michael Bow has had a pretty good year professionally -- and, knock on wood, it will keep getting better.
Bow, 27, runs "Bow Original Woodworking" out of his home in East Bethany. He builds furniture, cabinets, and other things per client request. Clients come to him from throughout Genesee County and as far away as Massachusetts.
Here are some samples of his work: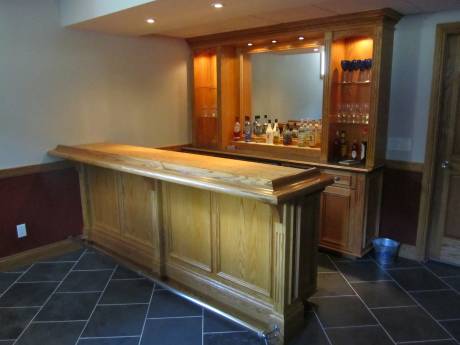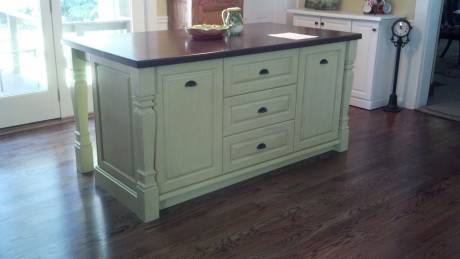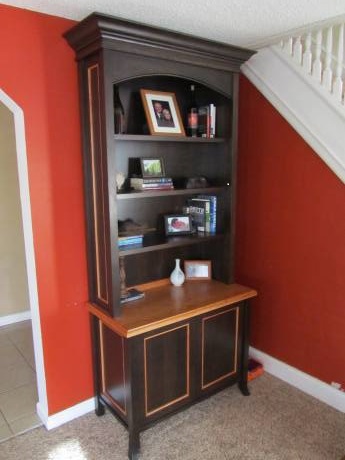 Originally from Attica, Bow has lived in East Bethany for two years. He started his own business in October 2012, around the time his mother became ill.
"I had worked in a couple different shops," Bow said, "Then I received a lot of requests for work, and my mom got sick. It seemed like the right time to go off on my own so that I could spend more time with her without affecting anybody else."
He learned woodworking on the job as an employee of Eurostyle Woodworking in Colorado. He credits the owners, Doug Stahl and Marco Dehm, with helping him to develop the skill level he enjoys now. They were not only his employers, but also his mentors.
"They're geniuses," Bow said. "They could touch a board and make a piano."
At one point, he got to travel with Dehm to the latter's native Switzerland and get a firsthand look at his training ground.
"When I saw how the Swiss learned," Bow said, "and what 16-year-old first-year woodworking students were doing, I was humbled by how advanced they were. I know guys here (in the United States) that have done woodworking for 30 years, and there's no way they could do what the kids are doing over there."
The following interview was conducted at Bow's home:
How would you describe woodworking for the layman? How is it different from carpentry?
Woodworking is a very in-depth trade. I think that's what I love about it. You have so many different ways to do so many different things. And then you've got so many styles. There's a European style, a Japanese style -- the Japanese are phenomenal craftsmen. There's so many different ways, for example, to build a cabinet, to set a door, and to join everything. Even after 30 or 40 years you still won't know anywhere near everything about woodworking.
There are different aspects of woodworking, but it generally involves more of a finished product. To me, when someone says "I'm a carpenter," I think they're more of a framer, more of a rough builder. And that's definitely respectable. These are just two different disciplines.
Is there a typical request you get from clients in terms of what they want?
Something cheap. (laughs) My slogan is "Design & Function." People usually want something for a specific purpose. Like if it's for an entertainment center, they'll want something that can hold a flat-screen TV, space for books or a DVD player, etc. So obviously it's designed around a specific need -- that's the function in "Design & Function." You can't have one without the other. If you've got the function and there's no design to it, what good is the function? And if you've got a good design and there's no functionality to it, then what good is the design?
How do you decide what kind of wood to use for your products?
Generally, it depends on what people want. If they want a painted product, usually I'll use either soft maple or poplar. If someone is looking for a certain kind of grain, I'll offer one type of wood. If someone is on a budget, I'll offer another; cherry generally stains very well -- and it's fairly cheap. It's pretty much about what the customer is looking for. Usually when I first meet with somebody on a job I'll tell them to get on the Internet, or get a magazine, and show me what they want.
Where do you get the wood for your projects?
It depends on what work I'm getting. Usually I don't need a big quantity of wood. I go through Attica Mill most of the time. I get some specialty hardwood from someone in South Warsaw, too. And then sometimes some of the customers will have wood that has been dried, cut or milled up, and I'll take it.
How did you get started in woodworking?
(When I was a kid) my uncle, Keith Bow, was always doing something with wood. He's a genius. I always would see his work and think, "Wow!" And I admired that "wow" factor.
My dad is kind of a hobbyist; he's a good craftsman. And my brother is a woodworker down in Florida. It's just in our blood, I guess.
I think the biggest thing (I enjoy) is that "wow" factor -- especially having my dad look at something I made and say, "Wow, that's cool."
In my late high school years, when I started realizing what I wanted to do, I went that route (toward woodworking). I was fairly confident with my skills and ability and knowledge, because I have the drive.
What are some of your hopes going forward?
My hopes are to always progress, always become more efficient...basically to strive for perfection. I want to become better at what I do. I want to be able to do more unique projects and constantly do something that is "one-and-only."
I don't expect to make a million dollars a year, but I would like to get to a point where I make enough money to live well and, here and there, take a few days off to do something outside of work.
Right now I'm busy, but not swamped. It's hit and miss (from week to week). Sometimes I might be working 60 hours a week. But I love what I do -- it's an addiction.
For more information, contact bow at 409-8127 or e-mail [email protected].
Sample photos courtesy of Michael Bow.
September 9, 2013 - 10:07am
#1
Great article! What a talented guy he is!