September 18, 2012 - 9:16am
Genesee County Bar Association celebrates past, looks to future on 100th anniversary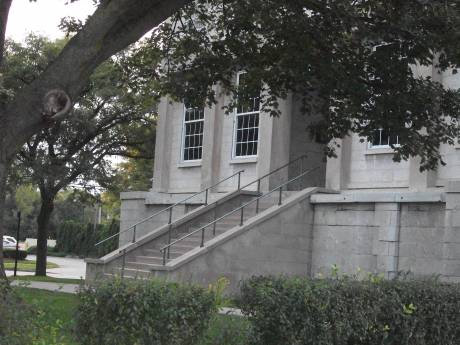 The steps of the Old County Courthouse will be the site of gathering for local lawyers, judges and legal professionals, along with several dignitaries, celebrating the 100th anniversary of the Genesee County Bar Association (GCBA) on Thursday.
Thursday's ceremony will last from 4 to 6 p.m. at 7 Main St. in Batavia.
GCBA President Durin Rogers said it is free and open to the public, and that "everyone is encouraged to attend" (a gala event at Terry Hill's will follow, but according to Rogers, and it's already sold out).
Notables scheduled to attend include:
Hon. Eugene F. Pigott Jr. (keynote speaker), Court of Appeals justice

Hon. Paula L. Feroleto, Eighth Judicial District administrative judge;

David M. Schraver, president-elect of the New York State Bar Association;

Michael Ranzenhofer, New York State senator;

Stephen Hawley, New York State assemblyman; and

Mary Pat Hancock, Genesee County Legislature chairperson and New York State Association of Counties president.
GCBA is a voluntary association of professionals in the justice system working together to benefit Genesee County and to improve the practice of law locally.
According to a press release, the association was founded in 1912 and quickly got to work to address "a widespread feeling of discontent with the judicial system and the manner in which justice was being administered."
"We are very proud of where we have been, and even more excited about where the GCBA will go over the next several years," Rogers said.
According to Rogers, GCBA has grown tremendously over the past several years, making new initiatives possible for both members and the community.
Some of the association's offerings include continuing legal education (CLE) seminars for members, philanthropic efforts with local agencies, and the "People's Law Series," which Rogers described as "a forum for local residents to become more knowledgeable on particular areas of law."
"GCBA intends to continue its present offerings and is always looking for new ways to benefit its members and the public," he said. "My time is limited; however, having spoken with the president-elect of the association, Mary Kay Yanik, esquire, I know that she intends to focus on several civic functions that give back to the community during her presidency."
Here are some past GCBA members (photos courtesy of Lisa Scott, of the Batavia law firm Bonarigo & McCutcheon):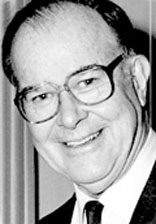 Barber B. Conable Jr. would go on to become a New York State senator and congressman, serve as a confidante to three U.S. presidents (Nixon, Reagan and Bush), and be appointed president of the World Bank, a position he held for five years.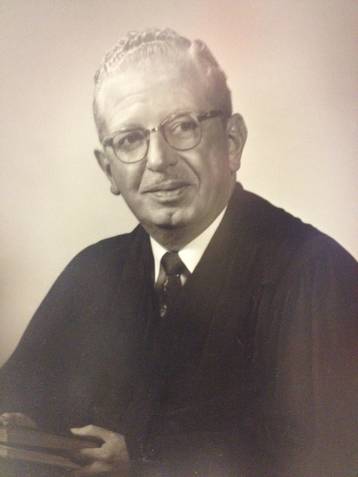 Honorable Robert E. Noonan Sr. who served on the Supreme Court in the Eighth Judicial District from 1949 until the early 1960s. Afterwards, he was permanently appointed (after two temporary appointments) by Nelson Rockefeller, then-governor of New York State, to the Fourth Department of the Appellate Division.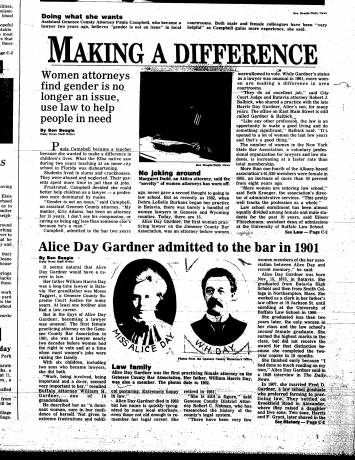 Alice Day Gardner was the first woman to practice law in Genesee County. She graduated from the University of Buffalo Law Department in 1901, being the fourth woman in history to do so and the only woman in her class. As a female lawyer in the early part of the 20th Century, she was a pioneer. The article about her above was published in the Batavia Daily News in 1985.
For more information on Thursday's ceremony, call Rogers at 345-1205 or visit www.gcbany.com.