September 2, 2012 - 3:11pm
Teachers and students welcome change with enthusiasm, dedication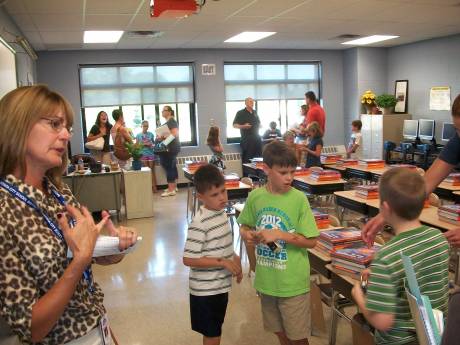 Upcoming fifth- and sixth-graders and their families got to see their new school, meet their new teachers, and connect with their peer mentors at Batavia Middle School's open house on Thursday.
What is a peer mentor, you ask? Well, here are a few: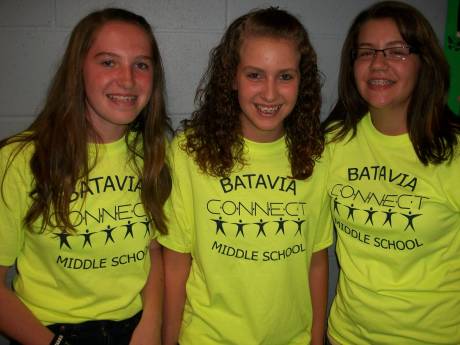 Paige Hameister, Brianna Ball and Madison Mitchell are part of a team of more than 50 eighth-graders whose task it will be to welcome, support and serve as role models for their younger classmates throughout the 2012-2013 school year.
Their mentorship is part of "BMS Connects," an orientation program that was started in 2009 to welcome sixth-graders to the Middle School. This year, the program has been expanded to welcome both fifth- and sixth-graders in the wake of the school district consolidation.
According to a press release from the Batavia City School District, the purpose of "BMS Connects" is "to help fifth- and sixth-grade students feel more comfortable as well as help them achieve success in their first year at the Middle School."
Wednesday, Sept. 5, will be "Connect Day," a day of activities for fifth- and sixth-graders. It will follow a regular school day schedule. Students will come in at 8 a.m. (reporting to their homerooms by 8:07) and leave at 2:45 p.m.
The day will include team building activities involving Cain's Taekwondo, the City of Batavia Youth Bureau, the eighth-grade mentors and all BMS staff.
Fifth-graders will have their activities in the morning, sixth-graders in the afternoon.
Prior to the activities, the sixth-graders will get to know the school, go over their class schedules, travel around to their various classrooms, find their lockers and meet their teachers.
After morning activities, the fifth-graders will spend time getting to know their homeroom teachers (fifth-grade classes will retain the traditional elementary school model of one classroom, or "homeroom," throughout the day, broken up at intervals by "special" classes like art, music and physical education) and exploring such topics as Internet safety and "Q & A" about BMS.
The first day of school for all BMS students, grades five through eight, will be on Thursday.
A change of scene for kids and teachers
A yearly occurrence, "BMS Connects" takes on a special significance because of this year's transition. It is part of a larger process involving dedicated staff and students collaborating to welcome not only more new students than usual, but also a new batch of teachers.
Lynn Matteo is one of the fifth-grade teachers moving up to BMS (in her case, from Robert Morris School). She is pictured up top interacting with her new students and their families.
Here is a sampling of the fifth-grade teachers and aides who are "moving on up" with their students: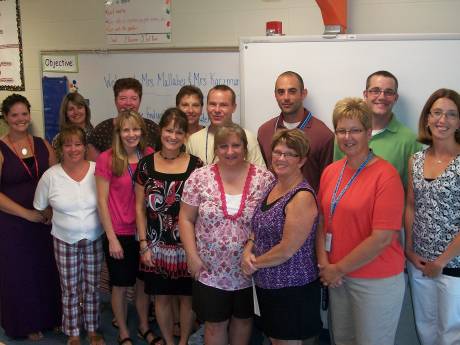 Pictured front row, from left: Kelly Mallaber, Shirley Boyd, Lori Easton-Penepent, Beth DeFreze, Christa Palmer, Deborah Murray, Karen Cima and Laura Kaczmarek. Back row, from left: Matteo, Charlene Barrett, Debbie Caruso, Richard Peek, Nathan Moore and Andrew Reagan.
Julia Rogers, who stepped into her new role as house administrator for fifth- and sixth-grades on July 1, talked about the large amount of effort everyone has put into making sure that the kids and their teachers enjoy as smooth, comfortable and welcoming a transition as possible.
"(The work) started last year when everyone knew about the consolidation," Rogers said. "(BMS Principal) Sandra Griffin and Tim McArdle, our assistant principal, worked tirelessly with the school district administrators to get this rolling."
She credits Interventions counselor Eric Knapp with being the "huge organizer" behind this year's "Connect Day" program.
"He is very multi-talented," she said. "He's done this in the past, but this time he's coordinating two different programs for two different groups of students on the same day."
That said, she also stressed that this whole process has been a team effort building-wide and district-wide, from the top administrators to the BMS custodial staff who had the fifth-grade classrooms ready for the teachers by mid-August.
"The teachers and support staff have really embraced this."
Fifth-grade staff members shared their perspectives on the transition as well.
"So far it's gone very well," Matteo said, "because everyone here is very warm and welcoming. They have made us feel right at home."
Shirley Boyd, formerly an aide at Jackson School, said the experience has been very exciting.
"You have to be willing to welcome change," she said, "and they (BMS staff and other fifth-grade staff) are doing that."
Mentors, models, friends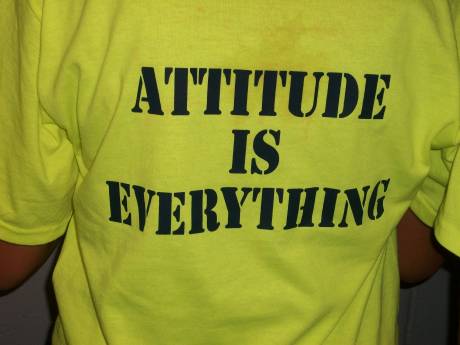 As is the case every year, the eighth-grade mentors have embraced their role with enthusiasm as well.
"It really is a big honor," mentor McKenna Dziemian said. "You have a lot of respect on your shoulders, but it's a huge responsibility as well."
"BMS Connects" is designed to benefit the mentors as well as the mentored. According to the district's press release, "the 'Connect Day' program helps mentors develop leadership skills, responsibility and team work as they begin their transition process to the high school."
Dajah Williams and Jhensy Etienne, both eighth-grade mentors, said that they were prepared for their task through training that included:
"trust exercises" in which one person would stand on a desk and fall backward, and a partner would have to catch him/her;
a "scavenger hunt" to find the new students' classrooms; and
an exploration of the "middle dchool mindset" (positive and negative attitudes, etc).
Mentors will be assigned to individual fifth- and sixth-grade homerooms, and they will spend all of Wednesday with their charges. They, as well as staff, will help to answer students' questions and orientate them to the middle school.
According to Rogers, the mentors will be involved with their younger peers to varying degrees throughout the school year. For example, they might assist with activities in fifth- and sixth-grade classrooms, or a mentor might be "called upon if a child needs a friend or support."
"The big thing is that the fifth- and sixth-grade students will see faces they know (when the school year officially starts)."
High expectations are set for all of the mentors. As role models, they are expected to keep their grades up and model good behavior throughout the year.
Excitement for a new beginning
Rogers said that Thursday's open house, which included separate sessions for fifth-graders and sixth-graders, went very well.
"The students are really excited," she said. "I've noticed that most of their questions are focused on who their teachers will be."
Any families who were not able to attend the open house can access the House Student Handbook and Thursday's PowerPoint presentations by visiting the BMS 5/6 House Web page.