July 29, 2018 - 1:26pm
Reader shares memory of the day the big-time big-top circus came to Batavia -- 62 years ago this month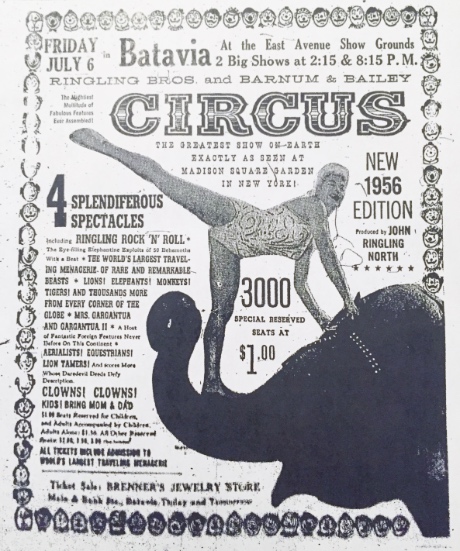 On July 6th, 1956 I was 9 years old. We were living on the top floor of a house at 20 Ellicott Avenue. We had moved there from one street over at 26 Thomas Avenue because my parents sold our house, but had not found another one yet.
Very early on the 6th, before sunrise, my parents got my brother Dan and me up to go see the Ringling Brothers and Barnum & Bailey Circus train arrive and unload.
The train would be unloading on Cedar Street. My Uncle George and Aunt Helen Reilly lived at #5 Cedar and my aunts Peg and Kate Reilly lived at #27.
A Railroad Town
Batavia back then was a railroad town. Cedar Street was in the southeast part of town and connected Route 5 (East Main Street) with Route 63 (Ellicott Street). Four railroads crossed Cedar Street. Right where it met Route 5 was the Erie.
In 1915 my grandfather moved his family from Mendon to Batavia when he got a job as a foreman on the railroad and purchased the house at 27 Cedar. It was a stone's throw from the (then) four tracks of the main line of the New York Central. The property at 27 Cedar stayed in the family until 1990 as the home of my two aunts.
About a quarter of a mile farther was the so-called "Peanut" branch line and that is where the circus train unloaded. Then in another quarter of a mile was the Lehigh Valley Railroad. They are all gone today except two lines of what is now Conrail, which was moved away from 27 Cedar in the late 1950s.
Unpacking the Circus
As I recall, we drove to my aunts' house at 27 Cedar and then walked to the railroad crossing. I had certainly not seen anything before like the activity which took place. A well-oiled team of hundreds of workers unloaded the circus equipment from the train with tractors, loaders, cranes, and by hand.
The materials were loaded onto wagons and then pulled by truck and tractor to the circus grounds, which were located about a mile away on East Avenue. The route was Cedar Street to East Main Street, quickly onto Clinton Street and then to East Avenue. This involved closing those streets to traffic, and circus workers and police acting as traffic directors.
Of course, what people wanted the most to see were the circus animals, especially the elephants. The lions and tigers and other animals in cages were transported by wagon. Often the cages were covered with tarps to keep the animals calm and not give the spectators a free look. They would have to wait until they paid for a ticket to see them.
But the larger animals, such as show horses, were walked by their handlers. At some point we walked back to my aunts' to wait for the elephants to come marching by.
I realize that for many years people were concerned about using animals to entertain people and especially reports (often true) of abuse of the animals. This concern and protest eventually led to inspections and laws being passed to protect the animals. This finally caused Ringling Brothers to shut down for good in 2017, probably a good thing.
A Line of Elephants
However, when you are 9 years old and a line of elephants walks in the street by your aunts' house, it's a pretty impressive sight.
I have been to zoos and also took my kids to the Ringling Circus in the arena in Rochester in the early 1990s, but I never again got that close to, or was so awed by, such huge and impressive animals. Should they have been out of their natural habitat and walking through a city neighborhood? No. But when I was 9 it was a pretty cool thing to see.
From there, we somehow went to the circus grounds on East Avenue where the Big Top Tent and other parts of the circus were being set up. (Several years later the land was sold to developers and my childhood friend Charlie Mancuso's parents had a house built there.)
Trouble with the Big Top
The biggest job of all was setting up the huge tent. First of all, it had to be unrolled as you would a tarp on a baseball infield, except many times larger. It became a tradition over the years to enlist local kids to help with this in exchange for a free ticket.
So, I volunteered (probably with my mom's reluctant permission) and grabbed hold and began to pull. Well, somehow I fell and the huge tent was being pulled over the top of me! I guess they heard me yelling and the pulling was stopped and they fished me out from under there. I was so embarrassed and I think that was the end of my day at the circus grounds.
Here's the sad thing: I did get my ticket, but probably due to getting up so early and getting stuck under the huge tent. I never went to the circus show. I'm sure I'm more disappointed about it now than I was then, but still...
End of an Era
When I researched about the circus to jog my memory, I found out that 1956 was the last year the Ringling Brothers used the Big Top Tent.
On July 16th, 10 days after the Batavia show that year, in Pittsburgh, Pennsylvania, the world (including 800 circus workers) were told by John Ringling North, the owner, that using the tent was no longer profitable and that the circus would be shut down for the season immediately.
The 800 workers were given only eight days severance pay and allowed to take the train back to circus headquarters in Sarasota, Florida. It was the end of the Big Top Era.
Image courtesy of Dave Reilly.
July 29, 2018 - 8:19pm
#1
I was ten years old and was total taken back by the sights, sounds and smells of the big top.