September 11, 2011 - 10:10pm
East Pembroke Fire Department commemorates 9/11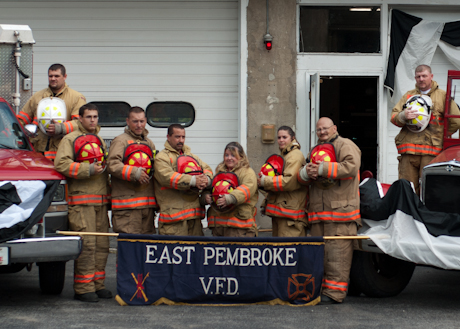 The East Pembroke Volunteer Fire Department held a memorial service this morning to honor all those who perished in the events that took place on September 11, 2001. Members from the department came out early this morning to decorate the trucks, and stayed there throughout the day to have a total of six moments of silence; one at the exact time when each plane hit, and one at the time of each tower's collapse and to mark the carnage at the Pentagon. Each moment of silence began with blowing the air horn on one of the fire engines, followed by one minute of silence to honor the victims and heros of that event.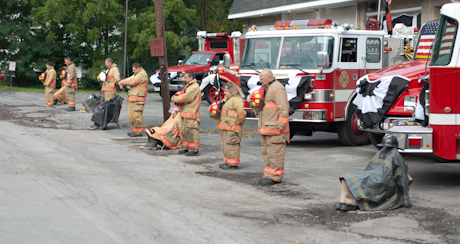 Pictured above: Firefighters observe a moment of silence for those who lost their lives when the first tower collapsed at 8:46 a.m. Below: A memorial set up in front of antique truck, "Old Betsy."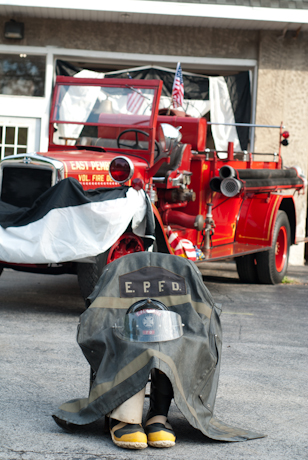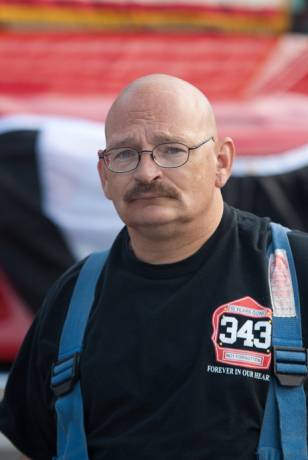 Pictured above is Firefighter William Torres, who joined the East Pembroke Fire Department in March of this year after moving up here for a job with the Loyola Recovery Foundation. Torres worked for the New York City Fire Department for 21 years, and was on duty on September 11, 2001. He was stationed in the Bronx that day, but once the first plane hit the Trade Center at 8:46 a.m., he was immediately called in to help with the rescue efforts.
He recalls bringing a patient out of the south tower just before it fell, "We were a couple of blocks away, headed for our ambulance when the first tower collapsed. When I saw the cloud of dust, my partner and I just started running as fast as we could while pushing our patient on the stretcher." It's obvious that he was greatly affected by the events that unfolded that day, but he says they made him a stronger person.