October 4, 2018 - 1:13pm
Local artist Karen Crittenden gives hands-on demo on drawing mandalas at GO ART!
posted by
Billie Owens
in
Event
.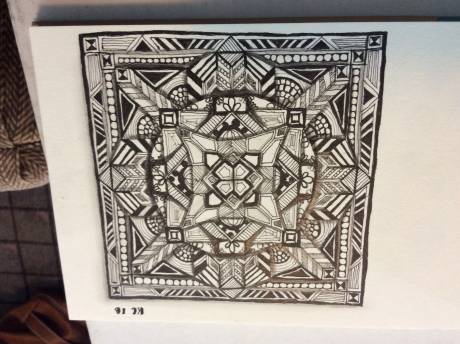 Happy fall! The next meeting of the Batavia Society of Artists is 7 to 9 p.m. Tuesday, Oct. 9th, at GO ART! It is located in historic Seymour Place in Downtown Batavia, 201 E. Main St.
Due to some unforeseen circumstances we have had to change a few things on our fall schedule for October and November.
Karen Crittenden will be give a hands-on demo on mandalas! In addition, Nikki Tamfer will be giving a hands-on printmaking demo in November.
There is no fee to attend a demo for BSA members; fee for non-members is $5.
Karen Crittenden's Bio:
"I have been drawing and making crafty things for as long as I can remember. I was introduced to mandalas when I lived in Turkey and saw them in museums, on handpainted tiles, on cave walls and other places in that part of the world.
"I forgot about them for many years and was reminded of them about 20 or 25 years ago and became fascinated with the actual process of drawing them. I figured out how to break the process down to create a skeleton and go from there.
"I also enjoy working with sacred geometry and fractals, which is kind of funny because I don't really enjoy math all that much. I own and operate a small niche yarn, craft and fine art store in Batavia,where I also offer group and private lessons in art, crafts and the fiber hand arts."
Event Date and Time: 
Tuesday, October 9, 2018 -

7:00pm

to

9:00pm
Location: 
GO ART!, Seymour Place, 201 E. Main St., Batavia, NY 14020