Imagine the perfect weekend getaway. It's comfortable, secluded, and your every need is anticipated and cared for. Most importantly, it's easy to get to. In fact, it may even be in your backyard. Welcome to River Spring Lodge, located at 1961A Church Road in Darien Center.
Image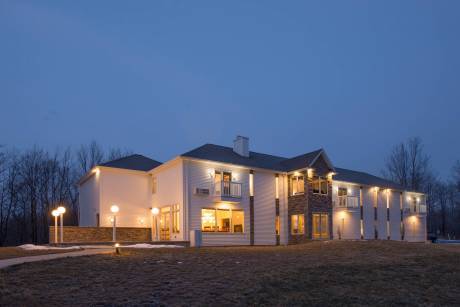 About the Lodge & the Hamers
An executive retreat and country inn, River Spring Lodge is known for providing a high-end, luxury experience to its guests. Opened in 2016, the Lodge is owned by locals Dave and Carolyn Hamer. After working in hospitality around the world for 15 years, the Hamers returned to Western New York to bring their passion for good food and great lodging to this area.
Seven modern and comfortable rooms, a fully equipped conference room, and large dining room make up this beautiful country estate.  
Deeply influenced by French cuisine as a student at the Culinary Institute of America, Chef Dave is world-renowned and has cooked for an impressive list of A-listers and celebrities. Carolyn complements the team with touches that make the River Spring Lodge experience unique – greeting each guest with a warm welcome as they arrive and sending them off with her favorite treat, a chocolate chunk cookie, when they depart.
A Romantic Escape
Surrounded by the colors of autumn, the deep chill of winter snow, or the sights and sounds of spring – River Spring Lodge is a romantic escape year-round. Named as one of the "top 10 most romantic inns in the country" by iLoveInns.com, they offer a couple's escape that's sure to keep the fires burning or reignite the spark. Relax, refresh and enjoy each other's company while your every need is tended to. The package includes a four-course dinner, three-course breakfast, and a room of unrivaled luxury. 
Meals are crafted by Chef Dave himself, and meant to be savored -- never rushed. When you dine at the lodge, the table is yours for the evening. Decide to retire, and you'll find goose down duvets, European shower rooms, heated floors for the colder months, and woodland or pond-side views from your private balcony or alcove. Wi-Fi and boosted cell phone coverage allow you to stay connected with the outside world, but why would you want to?
A Sportman's Paradise
Romance isn't the only package River Spring Lodge specializes in. The Sportsman Suite is a completely private space for hunters and fisherman, offering an exclusive steelhead fishing trip, as well as whitetail, turkey and pheasant hunts. Boasting four bedrooms and two full bathrooms along with a gun safe, poker table and darts, it's truly a man's world wrapped in a wilderness retreat. And man's best friend is welcome to join the fun, as hunting dogs are allowed in the suite. All-inclusive packages are available in the warmer months.
Drop By & Dine In
Image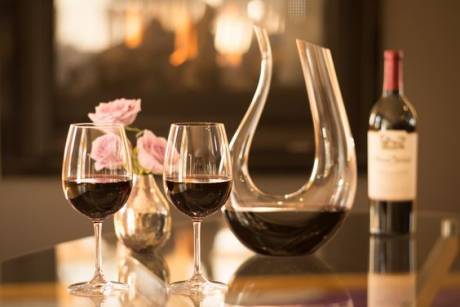 If an incredible food experience is simply what you seek, you don't have to stay the night to get it. The dining room serves four-course dinners from 5 until 8 p.m. Tuesday through Sunday to lodge guests and local diners alike. While it's open for reservations, we recommend you make one early. Dave and Carolyn take comfort seriously, so your table is yours for the evening, or however long you wish.
Once you're booked for the evening, start perusing the menu. Guests are requested to pre-order their meal 24 hours in advance – all part of the personalized experience – on a menu that changes regularly. Local produce is used in season, keeping fresh foods and first quality always top-of-mind.
Large groups (8-18) can make reservations for the Chef's Table, located in an adjacent room for a completely immersive dining experience – or sometimes even in the kitchen itself.
Whether you're looking for your next hunting adventure, board retreat, romantic getaway, or just a weekend away from it all, River Spring Lodge is the ultimate in luxury and comfort. Stop by, and let Dave and Carolyn welcome you to an experience you won't soon forget.
For more information visit www.visitgeneseeny.com.