August 16, 2016 - 8:58am
The past comes alive at the Western New York Gas & Steam Engine Association 50th Rally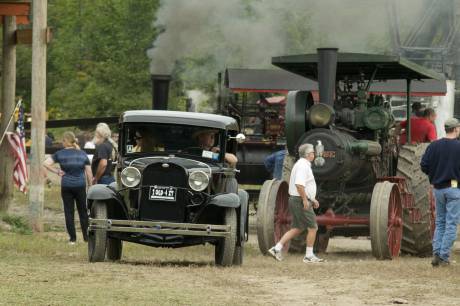 (Photo by Andy Olenick.)
Thousands of people will step into the past when they attend the Western New York Gas & Steam Engine Association, Inc., (WNYGSEA) 50th Annual Rally.  The golden celebration of this event will be held 9 a.m. to 9 p.m., Thursday through Sunday, Sept. 8 to 11 at the WNYGSEA Grounds, 10294 Gillate Road, Alexander.
The rally celebrates the preservation and ownership of antique vehicles powered by gas or steam. The show will feature more than 1,000 pieces of equipment. By attending this family-friendly event, you'll learn about how farming and work equipment performed decades ago. It's a far cry from the vehicles of today that are more often being run by computers.
The event includes antique tractors, steam engines, log sawing, gas engines, threshing, working models, woodworking, daily tractor pulls, flea markets and parades. There will be a blacksmithing demonstration in the ground's newest building. Attendees can also enjoy live entertainment each day.
Cost of admission is $7 adults, Children 12 & under free. For more information, click HERE.