Right in downtown Batavia, NY sits a tiny little building on Ellicott Street covered in bright pink, blue, yellow, and red polka dots. It has been quietly serving the town (and its visitors!) breakfast, lunch, and their famous Beef on Wecks since the 1950s – that's over 60 years since first opening its doors!
Image

Photo Credit: Pok-A-Dot
Surprisingly, not much has changed since it opened over half a century ago. The building looks almost the same and the menu has kept its flavorful simplicity that keeps patrons coming back. In fact, you're sure to see more than a few locals hanging around each morning – many in the town frequent this favorite breakfast joint.
Regulars are so essential to the Pok-A-Dot that they even put together an online photo gallery of their most loyal patrons! Check out The Cyber Pok-A-Dot to see the faces you may run into on a trip to the restaurant.
Turn up for breakfast, and you'll find it's of the savory type, almost all made on the grill – eggs, bacon, sausage, steak, and toast, served with a side of hash brown patties or homefries. Omelets are another standard at Pok-A-Dot and can be customized to fit your fancy. If you're looking for something sweet, you can grab a donut or side of raisin toast for just $1.25.
As lunch rolls around, red and white Hots, Polish sausage with kraut, burgers, chicken tenders, steak, and fish all grace the menu. Your meal isn't complete without a favorite side like dill pickle chips, mozzarella sticks, deep fried mushrooms, or onion rings – and you can top it all off with a milkshake for dessert (or as a side to an amazing meal). And of course, there's that famous Beef on Weck – thin-sliced roast beef slowly simmered in au jus, served on a hard kimmelweck roll – for less than $5.00 a sandwich.
Image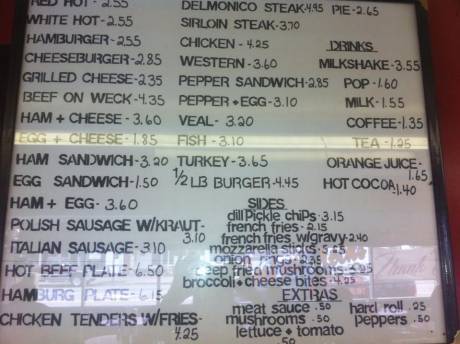 Photo Credit: Pok-A-Dot
In fact, the entire menu shows prices that are affordable for anyone – so grab a friend or the family and enjoy a delicious meal. But don't forget to bring cash – true to its 1950s roots, the restaurant does not accept credit or debit for purchases.
A great meal and a great taste of what Batavia has to offer can be found at the Pok-A-Dot. Add it to your next Genesee County visit!  
To learn more visit www.VisitGeneseeNY.com.