March 23, 2011 - 9:48pm
Elba students celebrate reading through music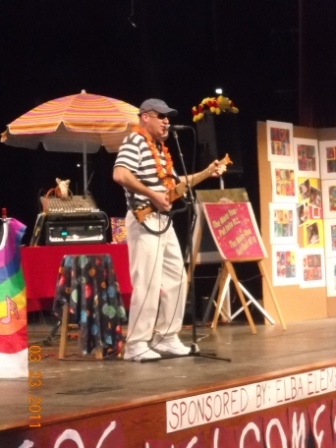 The beat is thumping, the energy is high, and the sound is thunderous as hundreds of tiny feet stomp the floor and just as many tiny hands smack together enthusiastically. Two hundred children chant, "We will, we will, READ YOU!" in deafening unison.
Welcome to Reading Month at Elba Central School.
In past years, the students have celebrated books in more traditional ways. This year, elementary art teacher Stephanie Rudman decided to mix things up a bit by inviting children's entertainer Glenn Colton to perform for the students. Colton's hour-long show entertained both students and teachers alike with silly jokes, oldies music references, and a message that reading can be fun.
Rudman says that she had remembered Colton performing at Elba years ago, and decided to bring him back in order to add a more musical aspect to the month.
The Orchard Park-based entertainer performs in about 250 locations per year, mostly staying in the Western New York area. He has a variety of educational concerts available, featuring themes such as bullying, cyber safety, and staying drug-free. Along with writing songs, he has also authored two children's books, "Mr. Ducky Wucky -- The Wonderful Secret" and "Browser the Mouse and His Internet Adventure." 
For more information on Colton's shows and book signings, go to www.glenncolton.com
March 24, 2011 - 6:58am
#1
Saw him in Bergen yesterday morning too. The Byron-Bergen Pubic Library invited him to come and entertain preschoolers! Glenn is a lot of fun!