Image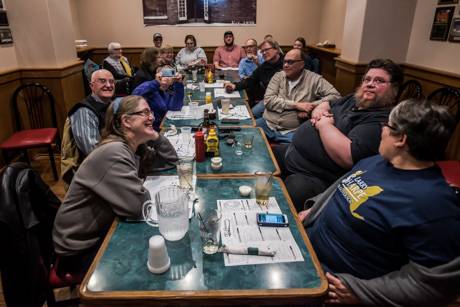 There are multiple storylines coming out of Tuesday's midterm election:
The Democrats take control of the House but not the 27th Congressional District, though that race isn't technically over;
Local Libertarians are celebrating the more than 90,000 votes garnered by Larry Sharpe, giving the Libertarian Party for the first time the same level of ballot access as Republicans and Democrats;
Voters approved staggered, four-year terms for county legislators;
National, state and local voter turnout, traditionally low in midterm elections, that match or exceed presidential year elections;
Democrats gain full control of state government after picking up enough seats in the State Senate to now hold the majority in the upper chamber.
The last point is perhaps the most troubling to Assemblyman Steve Hawley who has both seen firsthand what happens when Democrats control the Senate and the "crazy stuff" of Assembly Democrats that has been kept in check, as he put it, by a Republican majority in the State Senate.
"The last time that it flipped to Downstate, I referred to it, we saw what happened," Hawley said. "They were in control for two years. Many of them have already served jail time. Many have been convicted and are going to be serving jail time. It was complete free fall from any sense of reality (with the) programs and bills that were passed in the Assembly that were heretofore blocked by the Senate. I really shudder to think what will happen with some of the crazy stuff that comes out of the Assembly."
As we reported previously, former NYS Farm Bureau President and Elba resident Dean Norton warned local farmers what to expect if the Democrats gained control of the State Senate: A higher minimum wage, a farm labor bill, more regulations, cuts in rural government and school funding.
As the election approached, Lt. Gov. Kathy Hochul, who previously represented Genesee County in Congress before losing to Collins in 2012, held an opposite view, according to her personal account Twitter feed. Example:
Joined great Democratic candidates in #Rensselaer who are fired up to continue our progressive agenda.

We will take back the @NYSenate and have @AaronGladd join us in the majority! We must fight back against Trump and stand together to push New York forward. pic.twitter.com/ebmfjf7IJS

— Kathy Hochul (@KathyHochul) November 2, 2018
McMurray Concedes Race, Then Demands Recount
Expectations of Democratic gains in the State Senate or congressional House didn't do much to boost spirits at Center Street Smoke House last night, where local Democrats had gathered, once Nate McMurray appeared on TV for a concession speech when results weren't looking good for his effort to unseat indicted incumbent Chris Collins.
McMurray had energized WNY Democrats in a way that perhaps even Hochul didn't do in 2011. The disappointment at McMurray's apparent loss was palpable.
"He ran (his campaign) from the grassroots," said Michael Plitt, chairman of the County Democratic Party. "I mean, you know, the state party and national party didn't invest much in the race at the beginning. He just worked and worked and worked and he got a lot of people interested that weren't in mainstream politics before.
"You look here in Genesee County, we had 37 people canvassing last Saturday -- in Genesee County. They were all encouraged by the message he had -- positivity and just getting things done. I think there was a lot of energy."
McMurray didn't waver in his high energy and encouragement to his volunteers even during his concession speech.
"We did something great," McMurray said. "It never shameful when you fight a righteous fight and that's what you did. I said in the beginning that we're going to break the machine, right? We're going to break the machine. Sometimes when you take on those big tasks, trying to break the machine, it doesn't break. You put a dent in it but if you keep whacking, eventually it's going to break." (Audio for McMurray's quotes courtesy our news partner, 13WHAM.)
McMurray expressed disappointment that Collins -- facing federal charges and a House Ethics Committee investigation, who avoided the public and the press during his campaign, who attacked McMurray and his family with dishonest television ads -- could possibly win in Western New York but he vowed to fight on.
"Come on, we're going to be all right," McMurray said, adding, "Remember Rocky one? Rocky didn't win. He looked like I do right now, all beat up, his face looked like hamburger. He lost. Well, remember there was Rocky two?"
At that point in the post-election night wind down, nobody expected "Rocky two" to come so quickly. Within hours, McMurray realized the vote count was going to be a lot tighter than he anticipated and so he announced that he would demand a recount.
Collins' 'Winning Strategy' -- Avoid the Press and the Public
While Collins mostly avoided the press after jumping back into the race four weeks ago (at one point he announced his withdrawal following his arrest on Aug. 8), the Clarence resident was pursued by Erie County reporters on Tuesday night and did answer some questions, at one point admitting it was his strategy to avoid taking questions from reporters or the public in debates or open meetings.
"I set a strategy, I think you'll see tonight that my strategy worked perfectly, it's about winning," Collins said. "Clearly, the media is not part of our strategy."
Plitt called the strategy "atrocious."
"Candidates should be available," Plitt said. "You know, we're here at a Democratic event. Anyone can walk in and talk. Nate was in Genesee County several times at events open to the public. It's imperative at any level of office, from town boards to Congress, that (officials) are accountable to the press and communicate with the public."
Hawley was less ruffled by the strategy.
"We'll see what happens if Collins wins," Hawley said (we spoke before the results were certain). "We'll see whether he becomes more involved in the process, whether it's attending town hall meetings, whether it's attending events. I ran into him two or three times recently at different events, so it looked to me as though toward the end of this race that he was becoming more visible and I would certainly encourage him to do that."
Libertarian Sharpe Surpasses Critical Vote Threshold
Local Libertarians were far more focused on the governor's race than the congressional race, not because they thought their candidate Larry Sharpe had any chance of winning but because Sharpe surpassing the 50,000 vote threshold was critical to the party's gaining ballot access in state and local races that is on par with Democrats and Republicans.
"This has been a goal since 1971," said Mark Potwora, chairman of the Genesee County Libertarian Party. "Now when we run our candidates it'll take fewer signatures and hopefully we will attract more people who will want to run. We want to be able to get into the county legislative races and more local races. It's a big thing. It's just a big step for the Libertarian Party."
The recruitment effort for more local candidates has begun and there's enough interest, Potwora said, that people have been contacting the party about running in races. The goal is to have fewer one-candidate elections.
"We've already had a lot of discussion with people that are ready to go," Potwora said. "We have members now from Le Roy. We're hoping that we can reach into Le Roy. It's all about more candidates. Our next step is outreach and getting more candidates because these ballots should not go with unopposed races. There should be no unopposed races."
County Voters Pass Long-sought Term Reform
There was a high turnout in Genesee County and whether the high turnout helped county legislators finally get passed a reform they've sought for years -- creating staggered, four-year terms -- is impossible to say, but at Ken's Charcoal Pits & Bar-B-Q last night, where a few Republicans gathered to watch the results of the election come in, the legislators who where there were grateful it passed.
"On behalf of my fellow legislators, I would like to extend our appreciation to the voters of Genesee County for their support of the proposal to change the terms for county legislators," said Chairman Robert Bausch. "We believed that it was very much warranted considering the issues the county faces and are pleased that the county voters listened to that message and supported the proposal. We also want to extend our appreciation to all those who stepped forwarded and publicly supported this proposal."
In the run-up to the election, starting more than a year ago, there was a lot of talk about a "blue wave" sweeping the nation, a resistance against President Donald Trump, that would lead to Democratic victories across the land. After the Brett Kavanaugh hearings, where Democrats tried to derail his appointment to the Supreme Court, and after Trump's fearmongering about immigration, Republicans started talking about a "red wave," or a "red tide," or a "red wall" (Republicans never did seem to settle on a branding message).
Voters Showed Up
Among both Democrats and Republicans, across the nation, turnout was massive. What was true elsewhere was true in Genesee County.
"People are excited," Plitt said as we watched results come in. "From what I've heard turnout is high, almost at presidential levels, maybe better. People want to go express their opinion."
He didn't fully attribute the high turnout as a reaction to the Trump presidency.
"I think on both sides of the aisle he definitely fans the flame and maybe he brings out both side," Plitt said. "Yeah, I think that's a lot of it but there's a lot of interest in state issues as well."
Hawley thinks it's a good thing that people are getting out to vote, whatever the reason.
"Any time you can invoke people to become participants in our electoral process it's a good thing," Hawley said. "Whether we're divided or not, I'm not really sure that's the case. We'll have to watch the election results across the country to see whether it's divisive or not. Whether it's President Trump and his style, whether it's Governor Cuomo and his style, and whether it's challengers who are perhaps a little less verbal and vocal without regard to what they're saying, that gets people involved, as I say, it's a good thing."
Top Photo: Libertarians at T.F. Brown's.
Image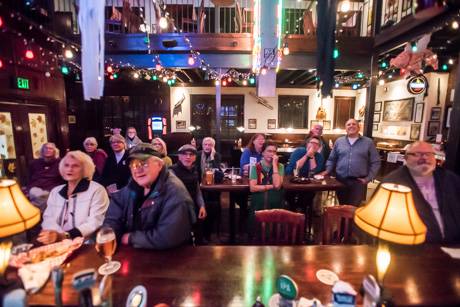 Democrats at Center Street Smoke House.
Image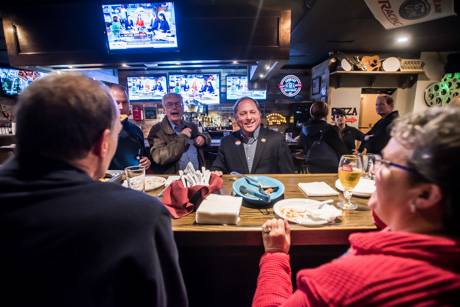 Republicans at Ken's Charcoal Pits & Bar-B-Q.
Image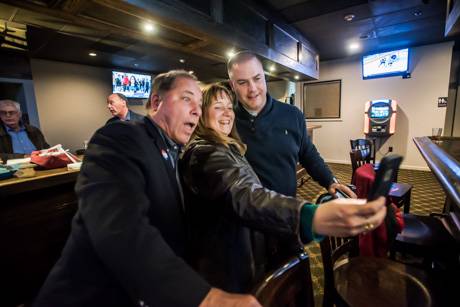 Steve Hawley, Barb Eddy, and Gregg Torrey pose for a selfie.
Image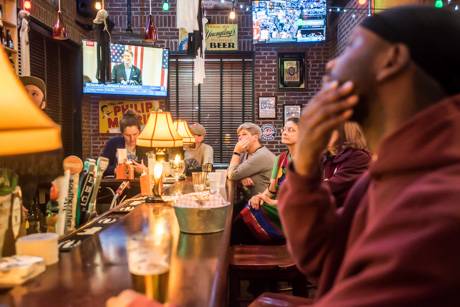 Gloom and disappointment at Center Street as McMurray delivers a concession speech.