October 2, 2019 - 5:33pm
Accident reported on Route 5, Town of Batavia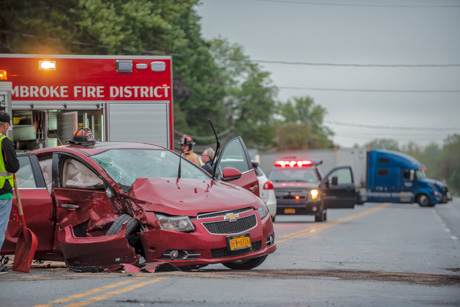 A motor-vehicle accident is reported at 3699 W. Main Road, Batavia.
Extrication of at least one patient is required.
Traffic is being shut down on West Main Street at Lewiston Road and at Route 5 and Kelsey Road.
Town of Batavia fire and Mercy EMS dispatched.
UPDATE 7:06 p.m.: According to Sgt. Andrew Hale, Sheriff's Office, the preliminary investigation indicates the red Chevy was eastbound on Route 5 and was stopped to make a left-hand turn into the Perry Vet Clinic. The silver Kia was apparently unable to stop in time to avoid hitting the Chevy. The collision drove the Chevy into the westbound lane of traffic where it was struck by the white vehicle. The occupants of the first two vehicles suffered minor injuries. The driver of the white vehicle was taken to ECMC by Mercy EMS for treatment of a possible leg fracture.