November 8, 2016 - 1:09pm
Alabama firefighters hold annual banquet and awards presentation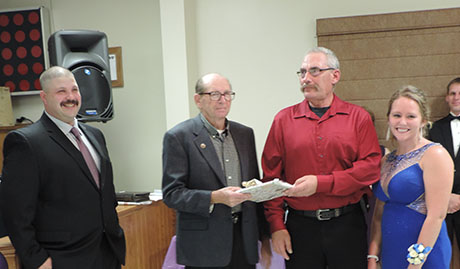 Alabama Volunteer Fire Department held its annual awards banquet and installation of officers.
Sid Eick achieved the rare distinction of winning both the Service Award, selected by the chief, and the Fireman of the Year Award, selected by the previous three winners of the award.
Eick has been active for 44 years and is currently a captain.
Several members were also honored for their years in service, including Gloria Abrams and Barbara Lee Hendershott for 15 years, Robert Eick for 20 years, Todd Thompson and Jeffrey Sage, for 30 years, and at 50 years -- Henry Brunea.
Brunea received a watch and a citation from Assemblyman Steve Hawley.
The installed fire officers are: Chief -- Gary Patnode; 1st Assistant Chief -- Nikkolas Bruner; 2nd Assistant Chief -- William Schutt; Captains -- Patrick Buczek &  Sidney Eick; Lieutenants -- Aron Kehlenbeck & Ashley Covel; EMS Captain -- Richard Brunea; EMS Lieutenant -- Terry Thompson; Fire Police Captain -- Ryan Thompson; Health & Safety Officer -- David Kinney.
Service officers: President --Robert Crossen; Vice President -- Patrick Buczek; Treasurer -- Anthony Mudrzynski; Secretary -- Michelle Patnode; Financial Secretary --Rebecca Borkholder; Board of Directors -- Henry Mudrzynski, Rick Brunea, Edwin Schoenthal, Donald Sage, & Gary Patnode Sr.; Chaplain -- Ralph Bauer; Bell Jar Secretary -- Clayton Fry.
The theme of the event was "Prom," so of course, there were Prom King and Queen and their Court. Prom King -- Tony Mudrzynski; Prom Queen -- Jo Anna Benaquist; Prince -- Ryan Thompson; Princess -- Jenna Wozniak; Jester -- Chad Pratt.
Photos and info provided by Alison Thompson.