October 28, 2018 - 12:36pm
Alexander rolls over Perry/Mt. Morris to advance to Class D championship game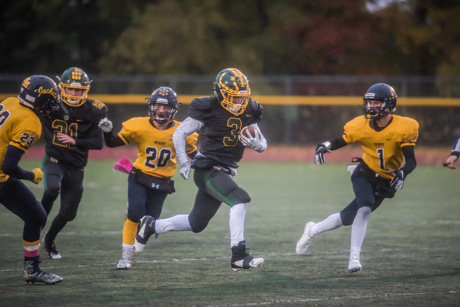 A 325-yard ground game helped Alexander dominate Perry/Mt. Morris in the Class D semifinal playoff game played at Cal-Mum on Saturday, leading to a 45-8 victory.
Chris McClinic rushed 19 times for 108 yards and three TDs. Terrez Smith added another 142 yards and two TDs on 10 carries. Hayden Walton gained 66 yards on nine attempts. Dylan Busch was 3-8 passing for 66 yards and a touchdown. He was intercepted twice.
Alexander's first score came on its second possession in the first quarter when Busch hit Ty Woods over the middle for a 37-yard TD. 
Perry scored on a Cameron Petrie 62-yard kickoff return.
In the top photo, Smith breaks free for a 76-yard touchdown run (scoring on the second photo).
On defense, Jake Jasen had six tackles. J.J. Goodenbury and Ty Woods had five tackles each. Ty Woods forced a fumble and had an interception. Nick Kramer and Nello Paolucci each contributed a sack.
Defense was stellar all night. Jake Jasen led the Trojans with six tackles. JJ Goodenbury and Ty Woods each had five tackles for the Trojans. Ty Woods forced a fumble and had a big interception on the night. Freshmen linebacker Nick Kramer and SR. DE Nello Paolucci each has QB sacks for the Trojans! Trojans will play the winner of the York /Canisteo game. -- Tim Sawyer
York/Pavilion, the #6 seed, beat Canisteo-Greenwood, the #2 seed, 12-7. Alexander and York/Pavilion will face off for the Class D championship at 7 p.m., Saturday at Alfred State University.
To purchase prints, click here.