May 11, 2015 - 4:30pm
Alexander's crabapples in bloom, a legacy gift to the village from Barber Conable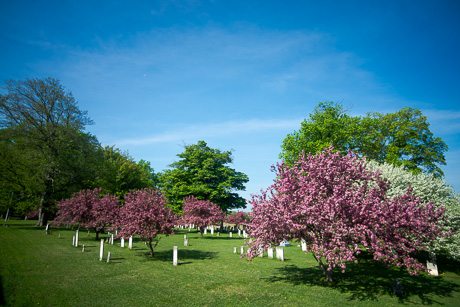 The flowering crabapple trees that line the streets in the Village of Alexander perfectly capture the spirit of her father said Emily Conable, daughter of the late Barber Conable, the former U.S. Congressman and World Bank president.
"The trees are really typical of the way he thought," Emily said. "He liked color, he liked trees, he liked the shape of the crabapple trees and he liked that they didn't produce a lot of fruit that would create a mess for neighbors to deal with."
Inspired by the seasonal bloom of cherry trees in Washington, D.C., many years ago Conable embarked on a mission to populate his hometown village with its own distinctive arborous splendor. 
A placist and Alexander loyalist even as he rubbed shoulders with presidents and potentates, Conable dreamed of a village that would burst forth in vibrant raspberry sherbet every spring, giving Alexander its own distinctive flavor.
"He loved Alexander," said Jane Schiemder, another daughter. "He was so enormously attached to that place as his home that he wanted to give it a beautiful gift and pay it back, at the same time making it more beautiful with its own special identity."
Conable offered to buy trees every year for the village, for the school, for any resident, business or church willing to have one planted in a yard or along a drive.
"One year he did five, another 10, another three," Emily said. "It really came down to how much time he had and how many people wanted trees."
At one point, Jane said, village officials were concerned they were running out of places to plant new trees, yet the statesman of local values wanted to buy more, and more.
Both Emily and Jane said Conable would certainly want to see his gift to the village enhanced by residents and officials buying more trees. The tree is not necessarily common anymore, said Emily, who currently works at an arboretum in Pennsylvania, Longwood Gardens. She said the tree can still be found at some garden shops locally and online.
Conable planted nearly a dozen trees in the Alexander Cemetery. He always planned to be buried there, as he was, even though he could have been buried at Arlington National Cemetery. The cemetery is next to the Schmieder property.
"He wanted the Schmieder cows to come to his funeral," Emily said.
Jane lives in Bethany now and drives through Alexander frequently, where she can take in the rugged, radiant brilliance of her father's bequest. He would be heartened to know, she said, that people still notice.
"I'm proud he did that," Jane said. "I really enjoy seeing such a beautiful addition to a really nice small town."
FOOTNOTE: We use the word "placist." In our conversation, Jane said the trees were part of her father's "placism." Though already familiar with the word, for whatever reason, I decided to google "placist." Every online dictionary defines the word along the lines of "somebody who discriminates against people from other places." That's never been my understanding of the word's meaning. So I called Bill Kauffman, one of the nation's leading experts on placism. Bill was surprised the word is even in dictionaries. "I thought I made up the word," he said (he's used it in his books). "No, that's not what the word means," he said. "It means somebody who loves their own place." Loving one's place is hardly the same as resenting those from other places. We hope they love their place, too. Bill and I agreed -- we're taking ownership of the word. There's no negative connotation in it whatsoever.