August 3, 2017 - 2:04pm
An interview with Rep. Chris Collins on health care policy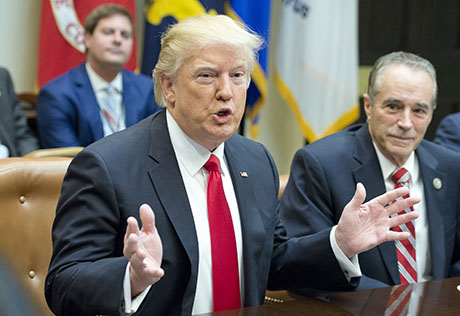 President Trump at a meeting with Chris Collins, right, and other members of Congress.
Photo: Getty Images. Copyright 2017. Published with permission.
The future of health care coverage for some Americans has become uncertain. If your employer provides health coverage through an HMO or PPO, you're probably OK. If you're on Medicare or Medicaid, you're probably OK. But if you're one of the 51 million of U.S. residents who must buy your own coverage, you might be watching the news coming out of Washington with concern.
After seven years of promising to repeal and replace the Affordable Care Act, the Republicans in Congress have been unable to do either. Now, President Trump is threatening to defund the CSRs (cost sharing reductions) that help insurance companies contain coverage costs. He may not be able to do that, at least in New York, but there are other actions Trump can take to hamper the health care exchanges. The funding reductions and uncertainty are creating turmoil for insurers and consumers alike.
There are a reported 5,074 Genesee County residents who purchased their health insurance through the New York exchange for 2017.
A month ago, The Batavian spoke with Rep. Chris Collins at length about his views on health care, with a follow-up interview last week, and learned that Collins doesn't think anybody needs worry about their coverage. When the House repeal and replace bill, the American Health Care Act was still alive (at the time of our first talk), he was confident that bill would be better for New Yorkers. Last week, when the so-called "skinny repeal" was still on the table (it since failed in the Senate), he thought whether it passed or not, New Yorkers would still have no trouble getting the coverage and care they needed.
The Congressional Budget Office has issued reports saying from 15 million to 25 million Americans could lose health benefits if either of those bills passed, but when pressed, Collins maintained there remained viable ways for anybody who needed coverage to get coverage.
Collins believes we have the best health care in the world, that Medicaid should be the same in all 50 states, that Republicans will never support universal health care, and he plans to continue the push to shift the cost of Medicaid from county taxpayers to the state.
"My buddy just had two grandchildren that were born twins two and a half pounds each," Collins said. "They finally just came home at six pounds. In days gone by the outlook for those kids would not have been good. The advances are tremendous in this country. I think we stand alone in this country with many of those and there's a cost that goes with it. We can get better everywhere. We have to go step by step but we've got to get rid of Obamacare (the Affordable Care Act). That's imploded."
That implosion, Collins said, is not because of anything the Republicans did -- eliminating support for risk corridors, creating uncertainty about the future of funding for individual market insurance, blocking the expansion of Medicaid, and not working on amendments to the original language of the act; rather, Collins said, it is because the ACA was doomed to fail.
"It was a house of cards that was never realistic," Collins said. "I called it out for what it was on day one."
On risk corridors, that was a flawed plan from the beginning, he said.
"I'm saying they (insurance companies) gamed the system," Collins said. "They priced the product low when they knew they would be reimbursed by the government. That all turned to mask how bad Obamacare was. It was masked for three years through this risk corridor reimbursement. Well, now the emperor's got no clothes and we see him standing there naked. That's what ended up happening when we stopped (the risk corridors). Now they have three years of actuarial data to know where it's got to be priced and sure enough, Blue Cross Blue Shield just announced a 47-percent price increase."
There are reports that the insurance companies are owed an more than $5.8 billion. Collins said they are owed nothing.
"They got their money," Collins said. "They got their money and now they have three years of actuarial data. They should be on their own."
Provisions in the Affordable Care Act such as risk corridors were meant, according to groups such as the Kaiser Foundation, to provide safe guards for insurance companies against taking on a wave of people with pre-existing conditions.
Remember, before the ACA, those $51 million Americans in the individual pool could be denied coverage if they didn't already have insurance or changed insurance -- such as going from an employer-based plan to an individual plan -- if they had a pre-existing condition, or that condition might not be covered. The ACA, which became law in 2009 and took effect in 2014, made that practice illegal. Risk corridors were intended to recognize a period of instability while insurance companies took on millions of people who had been denied coverage because of pre-existing conditions all in a short period of time.
The risk corridors were not directly funded by the Federal government. It was expected that some insurers would under estimate and some would over estimate their costs. The risk corridors set a range of acceptable variance and then used profits from above that range to reimburse insurers who fell below that range.
Collins contends no insurance companies were profitable in the first three years of the ACA, or profitable enough to fund the risk corridors. 
"The young and healthy did not sign up," Collins said. "They are not signing up. Therefore the people in these plans are sicker. Those are the ones who flocked to them. There was never any money on the surplus side to give to the companies who all, in a race for the most patience, I would say negligently, priced their products knowing their losses would be covered by the federal government for a period of time. That was the house of cards. Set to fail. And it has failed. It was not anything the Republicans did."
According to a study by Common Wealth Fund, some insurers lost their shirts under the ACA while others raked in record premiums. Then, in the first quarter of this year, health insurance providers had their most profitable quarter ever. The volatility over the past three years in the health care exchanges is exactly what you would expect to find in a newly created market, according to a paper co-authored by conservative economist Craig Garthwaite.
The loss of risk corridor protection isn't the only shoal in the storm weathered by the Affordable Care Act.
There were more than 100 lawsuits filed against the ACA, some of them backed by Republicans. The fact that some of those challenges prevailed is evidence, Collins suggested, that the health care insurance law was bound to fail.
"This was a fundamentally flawed plan trying to get universal health care," Collins said. "The biggest issue was the Supreme Court struck down the exchanges being mandated across the country. That was the beginning of the end. That was not the Republicans. That was the Supreme Court ruling on an unconstitutional aspect of Obamacare. This thing was bound to fail."
The Affordable Care Act was meant to help lower the cost of health insurance for the approximately 51 million Americans (in a nation of 302 million adults, or 17 percent of the population) who are not covered by employer-provided health insurance or already receiving Medicaid or Medicare. Most of these Americans, prior to the ACA, did not have health coverage.  Since passage of the ACA, an additional 20 million people in the United States now have health insurance.
The ACA expanded Medicaid (though some states rejected the expansion) to include low-income workers (that's about six million of the 20 million mentioned above). There are also more people covered under their parents' plans because the law extended required coverage for children up to age 26.
A key provision of the ACA -- and one most reviled by conservatives -- is the individual mandate. The mandate was intended to push healthy young people toward signing up for insurance so their premiums (because on average they wouldn't require care resulting in claims) would help keep costs down for people with more health concerns.  People in the individual market who don't buy insurance can be assessed a tax penalty. 
The bill also required companies with more than 50 employees to provide insurance. Like the individual mandate, this provision has been unpopular and one report said as many as 22 percent of small businesses are hiring few workers as a result.
One thing Collins believes about the ACA is that the bill was really a trick to institute universal health care in the United States.
"The Democrats want universal health care," Collins said. "No if ands, or buts. Hillary Clinton wanted that. Barack Obama wanted that. They never could get there and that's when we ended up with the abomination that I call Obamacare."
At the time the ACA passed, the Democrats controlled the House and the Senate, with enough votes in the Senate (58 Democrats and two Democrat-leaning independents) for Obama to get through just about any legislation he wanted, including single-payer, Medicare-for-all, or any other universal system.
The ACA seems to be largely based on proposals first put forward by the conservative think tank, the Heritage Foundation. That that is not an indisputable fact. Stuart Butler, a Heritage director, says it's not true but there are documents out there that show Heritage and Butler pushing coverage for all Americans with an individual mandate.
At the time Butler was offering any kind of proposal for health care, Bill Clinton was president and Hillary Clinton was heading a commission aimed and creating universal health care for the nation. To counter the Clinton plan, Republicans were proposing alternatives, including the Heritage plan.
Republicans remain steadfastly opposed to universal health care, Collins said, even though Trump has seemingly promised just that during his campaign for president.
"We're going to have insurance for everybody," Trump said on Jan. 11. "We're going to have a healthcare that is far less expensive and far better." 
In an interview with 60 Minutes in September 2015, he said, "I am going to take care of everybody. Everybody's going to be taken care of much better than they're taken care of now."
Collins deflected questions about Trump's promises.
"I don't speak for the president," Collins said. "I would say on the campaign trail he talked about a lot of different topics."
And in response to a follow-up question, Collins said, "The life I live is here now, and Republicans will never support universal health."
Interestingly, not all conservatives agree. The American Conservative has recently published two columns suggesting that within five years Republicans will embrace universal health care and that universal catastrophic coverage is what is best for the nation.
Collins is opposed to universal health care, he said, because he believes it's inferior to what we have now.
"(I) would point to the situation in Europe certainly the situation in Canada where we have Canadians pouring over the border to get health care that's just not available within their universal health care system," Collins said. "You look to Europe; the elderly are denied health care. The ROI is not there, whether it's a new hip for it or something else -- how old are you? What's your life expectancy? Some of the life-saving cancer drugs are not available in Europe from a cost perspective because those nations budget health care." 
According to this op-ed in the Denver Post from 2009, the idea that Canadians come here for routine coverage is a myth, through when Canadians do come to the U.S. for care, for whatever reason, their universal healthcare plan covers their medical expenses. (Colby Cosh, a journalist in Canada, read the Denver Post piece after I sent him a link on Twitter and he said, "Some of its plain nonsense, like 'no waits for urgent care', obviously."
There does seem to be some issue with the elderly being denied care in Great Britain (care rationing), but apparently, that is not how their care should be handled since they can sue if denied care.  
While there is a report in England recently of patients being denied expensive treatment, those same treatments are available elsewhere in Europe, and American pharmaceuticals tend to be substantially less expensive in Europe than the United States.
The idea, however, that drugs make health care more expensive for Americans, is a myth, Collins said.
"There's so much misinformation out there," Collins said. "For instance, if you surveyed the average American they will tell you the biggest cost driver and the biggest problem we have are prescription drugs. That's what they say. But that's not the reality. As I understand that prescription drug coverage is nine percent of health care cost. Ninety-one percent is everything else. So if all these, and they are expensive drugs, and as I just illustrated through my ill-venture down in Australia, nine out of 10 drugs are going to try and fail, there's a huge cost. It's got to be recovered one way or the other but you're simply not going to have new R&D and new drugs to cure the next disease."
Pharmaceutical research, however, is not a totally free-market system. While drug companies fund about $60 billion of the $100 billion spent on R&D each here, about 1/3 of that tab is paid for by taxpayers (with the rest covered by charitable contributions). Many drugs are formulated based on publicly financed research and some drugs are developed through a public-private partnership.
Even so, Collins expressed no interest, when asked, about reforming the current patent law system that gives drug makers monopoly pricing on drugs, though he did say he supports making it easier for patent-expired drugs to enter the generic market.
"None of us would ever suggest that anything's perfect," Collins said.
He said he's especially interested in reducing the approval process around what is called "biosimilar" drugs. Biosimilars are the same in every respect to FDA approved drugs, except for some inactive ingredients. The process for biosimilars was supposed to be reformed under the ACA.
While not addressing the patent issue, he said he would like to see new drugs get to market faster.
"It begins with things that we've done, that I helped with, with the FDA and the 21st Century Cures Act, to get drugs to the market quicker," Collins said. "I sat down with the administrator of the FDA and asked her about her personnel needs and the skill set she needs to get drugs to market quicker, to save lives, to treat illnesses, to treat debilitating diseases because the quicker they get to market the cheaper they'll be. There's a cost. Whatever it does and it takes you eight years to get it to market, and we can get it down to five years, we can save the net cost, and I believe it will be substantially reduced."
Whether the Republicans the Republicans let the ACA die, repeal it outright, repeal and replace it, Collins doesn't believe that people are going to die for lack of health insurance.
The poor, he said, will continue to be covered by Medicaid. As for people not eligible for Medicaid, nobody will face bankruptcy because they can't afford health care.
"We, Republicans, and everything we've said are they don't have to go bankrupt," Collins said. "That's was the old system. The old system said, because it was no safety net whatsoever, you have to go on Medicaid. The only way to get on the Medicaid was to go bankrupt. Well, that's not where we are today. Where we are today -- we don't know where it's going to end but certainly, American Health Care Act said very simply, you can get insurance."
It might be expensive insurance because if you were without insurance when you developed what carriers would consider a pre-existing condition, the insurers could charge you premiums that are 30 percent higher for 12 months.
"You are perhaps in that uncomfortable slice of working poor and your numbers didn't work and you did not have coverage through your employer and you made the decision to not carry that insurance," Collins said. "There were other things that took priority in your life. We're not going to now force you into bankruptcy, which was the old way. What we said is there would be a 30 percent added cost for 12 months then you would go back into the community rate. Personally, I think that is a pretty fair compromise."
The AHCA seems to be dead, at least for now, and Collins defended it at length during our conversation. You can read his comments in the transcript (links to the full interviews below).
Even with the AHCA seemingly consigned to legislative history, Collins said the proposal he backed to provide mandate relief for cash-strapped counties hit with the high costs of supporting Medicaid isn't dead. He will continue to pursue that legislation, he said.
"John Fasso and I are going to continue to pursue our Medicaid language and find something else to attach it to because we have some other must pass stuff," Collins said. "We've got S chip that's got to pass. We've got some extenders that need to pass, so let's just say John Fasso and I are not giving up on the Medicaid piece regardless."
Many economists have raised concerns about the lack of free market mechanisms in health care, a key factor in driving up costs. Employer-provided health insurance distorts the market, creates what economists call the principle-agent problem (the ultimate consumer isn't making the key buying decisions) and information asymmetry (buyers have less information than sellers). Liberal economist Dean Baker has been especially vocal about the American Medical Association, which he labels a "cartel."   The "cartel" he contends, is able to artificially reduce the number of hospitals and doctors in the United States. to constrict supply and drive up costs.
The United States has only 3.3 hospital beds per 1,000 people, compared to 3.7 in Canada and 4.2 in the United Kingdom. At 2.2 physicians per 1,000 people, the United States ranks 52nd in the world, though a tad higher than Canada or the United Kingdom. The United States spends more, much more, per capita on health care than any other nation on earth, yet ranks 43rd in life expectancy.
We asked Collins about the underlying causes of high health care costs in the United States and he didn't answer the question directly.
"Well there's one big issue and it's lifestyle," Collins said. "Two-thirds of our country is obese. Through that, all kinds of things happen whether it's diabetes, whether it's joints, whether it's heart, or whether it's cardiovascular. If you want to look up and down in health in the U.S., it's we got a weight problem. So what can we do? We got to talk about it. We've got to remind people of it. Health insurance companies now have fitness plans. Government plays a role and then people play a role. I'm just a firm believer in personal accountability. We make decisions good and bad. Certainly, our health decisions are more under our control, not to say that bad things genetically don't happen but there's an awful lot of the health care world that we do control individually. We're not doing a very good job."
PDF transcripts for full interviews:
August 4, 2017 - 3:39pm
#2
Oh, fat people are driving up health care costs. It has nothing to do with profiteering price gouging insurance companies or big pharma pushers.
"If you want to look up and down in health in the U.S., it's we got a weight problem. So what can we do? We got to talk about it. We've got to remind people of it."
Fat shaming is Chris's answer to healthcare.