November 10, 2018 - 2:47am
Apparent accidental self-inflicted fatal shooting under investigation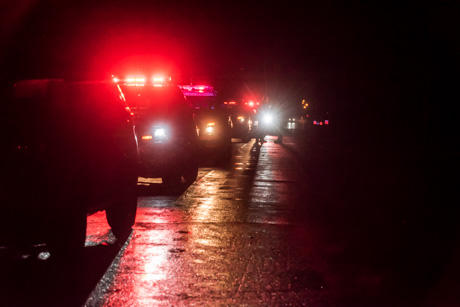 A man in his young 20s apparently accidentally fatally shot himself with his own gun this evening during a party in a barn at 6490 Byron Holley Road, Byron.
The name of the victim has not been released pending family notifications.
Chief Deputy Jerome Brewster said right now investigators are leaning toward accidental as the cause of the firearm discharge.
It is possible the victim was playing with the weapon when it discharged.
He described the gun as a semi-automatic pistol that the victim owned and possessed legally.
There were five or six people in the room, a party room in the barn, as Brewster described it, when the gun went off.
The initial call at 11:45 p.m., Friday, was for a man accidentally shot in the face. Byron Ambulance was dispatched but the ambulance went back in service shortly after arriving on the scene.
The coroner arrived on scene at about 2:15 a.m.
Two people who were in the room at the time of the shooting were taken to the Sheriff's Office on Park Road for further questioning.
Brewster said a press release about the shooting will go out after family notifications and after investigators determine better exactly what happened.  
UPDATE 10 a.m.: The victim has been identified as John L. Carney, 23, of Le Roy.