May 3, 2018 - 10:03pm
Arc of Genesee Orleans honors volunteer, inducts new board president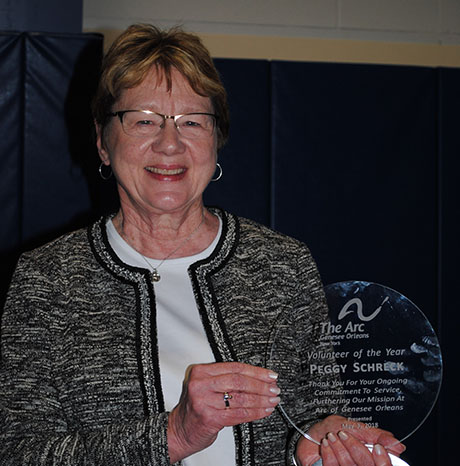 Peggy Schreck was awarded Volunteer of the Year at the annual dinner of the Arc of Genesee Orleans. The award was presented by Shelly Kurdish, director of Rainbow Preschool, where Schreck volunteers.
Debrah Fischer, co-owner of WBTA, assumed the office of president of the board of directors for Arc (next photo, and bottom photo, with board of directors).
More than 400 people attended the dinner and awards program at Genesee Community College's new field house.
Photos and info courtesy our news partner, WBTA.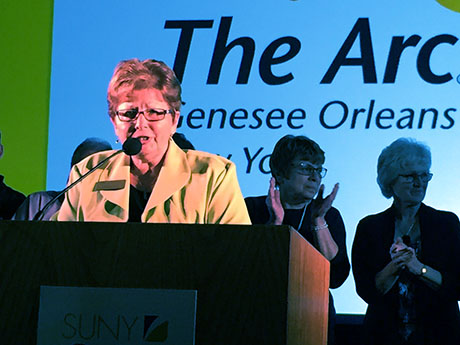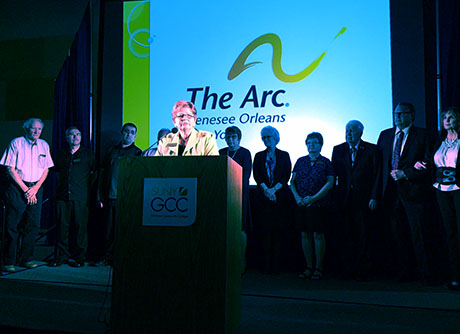 UPDATE: Added additional photos submitted by Arc Genesee Orleans and added the press release below.
Also, besides Debrah Fischer, president, this year's officers are: Jane Scott, VP, John Huber, treasurer, and Marlene Hill, secretary.
Press release:
"Each year the Arc of Genesee Orleans honors an individual for their commitment to outstanding volunteerism for making a difference in the lives of others. Volunteers are the cornerstone of our agency and are vital to raising awareness of the great work the Arc provides in the communities in which we live and work. This year the Arc of Genesee Orleans has selected Peggy Schreck as the Volunteer of the Year.

Peggy Schreck began volunteering at Rainbow Preschool in Albion in 2012, and before that Peggy participated on various Arc committees. Peggy actually began her career in the very same building that Rainbow Preschool is now, when it was the Arnold Gregory Memorial Hospital and she was a lab technician.

Peggy and her husband moved to this area so her husband could complete college at GCC and Brockport where he then went on to become an elementary teacher. Peggy also enjoyed the educational setting and was a teacher aide for several years at Medina schools. Peggy later moved in to a position at Medina Savings and Loan where she retired 2010. She wanted to still be a part of the classroom and that is when Peggy began volunteering at Rainbow Preschool.

It is very obvious to the staff, students and families that Peggy thoroughly enjoys her time in the Rainbow Preschool classrooms and the time spent with the children. Peggy states she most enjoys watching the children's growth and success during the school year, such as hearing a child's speech develop or their gross motor skills expand. She also enjoys all the children's smiles and hugs when she gets to the classroom. Peggy notes she enjoys the structure of the classrooms and this is a good fit for her with her prior classroom experience. Peggy says she has also developed many friendships with the staff and families from her volunteer role and she enjoys these new relationships within the community.

Peggy feels she is utilized in the classroom and enjoys the hands on activities and responsibilities she is provided. The teachers and aides all comment what an incredible addition Peggy is to the classroom and she brings such compassion and care to her work. She does special projects with the children and brings fresh ideas to the classroom. Peggy treats all the children as she would her own grandchildren, and she enjoys this because she does not get to see her own grandchildren because they live far away in Georgia where her son is located for his profession. The children call her Miss Peggy or Grandmom and this warms Peggy's heart with happiness and brings her joy.

I am so pleased to present this year's award for Volunteer of the Year to Peggy Schreck and to give her on the behalf of everyone at Rainbow Preschool and the Arc of Genesee Orleans our heartfelt thanks and appreciation for her years of dedicated volunteerism at Rainbow Preschool."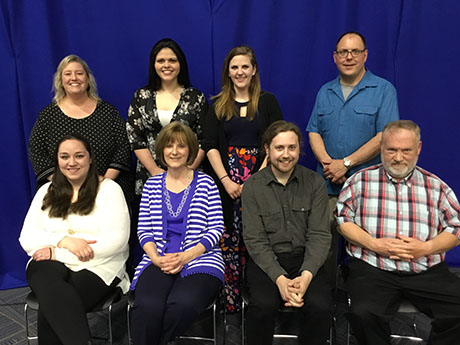 Seated: Brandi Kinnicutt, day habilitation specialist; Carolyn Dawson, chief administrative officer; Dylan DeSmit, direct support professional; Jim Henning, trash collection/recycling driver. Standing: Jennifer Conklin, Special Education teacher; Kim Austin, Culinary Arts manager; Kaelie Grazioplene, supported work assistant manager; Carl Jones, trash/recycling/transfer station manager.
Mary Anne Graney Scholarship Recipients with Scholarship Committee Chair Molly George: Riley Seielstad -- Albion Central; Abigail Klos -- Oakfield – Alabama; Hannah Duhow -- Medina Central; Kathleen Dessert -- Le Roy Central.