February 14, 2022 - 5:12pm
Arctic Refrigeration and Mager family make $2,300 donation to Crossroads House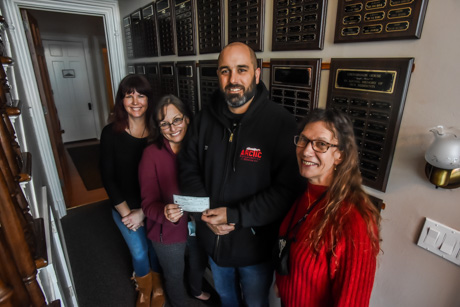 Arctic Refrigeration Co. of Batavia and the Mager family delivered a $2,310 donation today to Crossroads House.
Half of the money came from family members, a donation in lieu of Christmas presents to each other, and half came from the proceeds of the annual Henry J. Mager Memorial Scholarship Golf Tournament.
After a two-year hiatus because of the pandemic, the golf tournament, founded in 2010, will return this September.  Named after the founder of Arctic Refrigeration, proceeds from the tournament are used to fund scholarships for students from Batavia High School or GVBOCES who are intent are pursuing a career in a trade, such as construction engineering, architecture, HVAC, automotive, building, agriculture, or energy.  
Fundraising has been more difficult during the pandemic, said Diane Sia, a staff member at Crossroads House, and donations by families and businesses such as the Magers set an example for what others can do to help organizations in the community.
"That is huge in our books," Sia said.
Photo by Howard Owens. From left, Emily Crawford and Diane Sia, with Crossroads House, and Jon Mager and Teresa Tamfer.