June 16, 2017 - 11:27pm
Area judges briefed on LGBTQ issues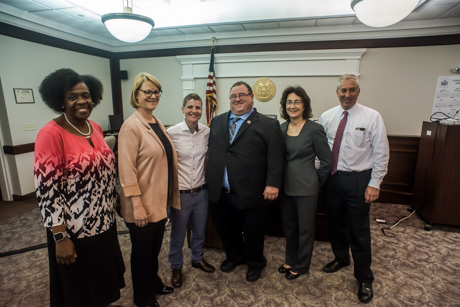 As part of Gay Pride Month, the Richard C. Failla LGBTQ Commission of the New York Courts is sponsoring a speaker series in courts in the state to help train judges and others in the courts system about gay rights and LGBTQ issues.
Today's speakers in the County Courthouse in Batavia were Brooke Barone, a plainteiff in a landmark case that expanded the rights of non-biological parents, and her attorney, Margaret Canby.
Marc Levine, executive director of the commission explained after the meeting (I had other business to finish and didn't make it on time for the speakers) what the commission is about and about the progress the LGBTQ community has made in the courts over the past 15 years.
"We went across the state doing things and it was beautiful to see the changes in the court system," Levine said.
Levine started a volunteer alliance in 2003 and the commission was formed at the start of this year and during that time, he said, he's seen more people in the court system come out and seen more judges, clerks, and administrators appointed to top positions.
Yesterday, Gov. Andrew Cuomo named the first openly gay man appointed to the Court of Appeals, Paul Feinman.
"This is something we thought was going to be so far off, we didn't even know if we'd live to see that happen," Levine said. 
There were judges from throughout the region at the event, including every full-time judge from Chautauqua County.
The turnout was both significant and important, Levine said.
"Sensitivity Training is a beautiful thing," Levine said. "It's one thing when you look at someone in a textbook; it's a completely different thing when you come and you see people and you listen to them and they become real and you get to see why it's important, and you care and you take that out into the courts with you and set a tone that the courts know that people need to be treated with respect. They are sensitive to the needs of the community."
Levine is clearly a passionate advocate for the LGBTQ. I asked him one question and he spoke uninterrupted for nearly 10 minutes. Here's the full audio (mp3).
Photo: Judge Edwina Mendelson, left, Margaret Canby, Brooke Barone, Marc Levine, Judge Paula Feroleto, Andrew Isenberg, district executive for the Eighth Judicial District.
June 18, 2017 - 3:41pm
#1
for real ? a judge knows the rights of gays as they are the same as the rights of non-gays.. somebody please correct me if I am wrong as I am non-gay and I want all the rights the rest of America has..