December 6, 2017 - 9:42pm
Arrest made in pair of 'smash and grab' burglaries in Pavilion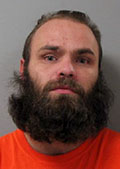 Phillip Muzzy
A Lackawanna resident has been identified as a suspect in a pair of "smash and grab" burglaries in Pavilion on Oct. 22.
Phillip S. Muzzy Jr. is accused of burglaries at Crosby's and Pavilion Farms.
Muzzy, who is currently an inmate in the Erie County Holding Center on unrelated charges,  was charged with two counts of third-degree burglary, second-degree criminal mischief, third-degree criminal mischief, and grand larceny, 4th.
Bail was set at $15,000 or a $20,000 bond.
The burglaries were investigated by Investigator Chad Minuto with assistance from Deputy Travis Demuth, Deputy Jenna Ferrando, Sgt. John Baiocco, the Warsaw Police Department, and the Erie County Sheriff's Office.