Image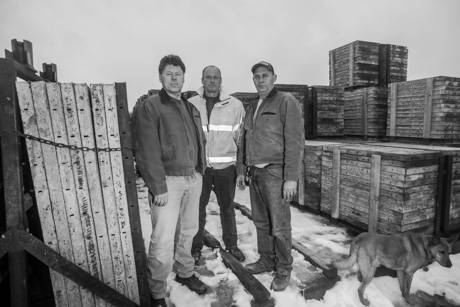 This is the fifth in a series of five stories about the honorees at this Saturday's annual Chamber of Commerce Awards Ceremony. The ceremony is being held at the Quality Inn & Suites in Batavia.
Pouring concrete is a young man's game, said Tom Baltz, co-owner of Baltz Concrete Construction in Pavilion.
"We have a lot of knowledge and ability to keep (the business) running, but I certainly couldn't go out and do concrete anymore," said the 64-year-old Baltz. "We have a lot of tough guys. You have to be tough to do concrete work."
Baltz employs between 40 and 50 people regularly, usually more in the summer. They have to work in all kinds of conditions. This isn't school where you can count on a few snow days during the winter. A Baltz construction worker works in the hot and the cold, the wind and the rain, the snow and the bright light of an August afternoon.
"They're working outdoors in all possible conditions," Baltz said. "We only took one weather day off this winter. They're out there in the mud and the water and they still have to think clearly and get a job done, and get a job done in a manner that it's going to stand up. It really is an amazing thing what these guys are capable of doing and what they're willing to do to get the job done."
It's been 45 years since Tom's dad, Robert Baltz, started the company, which his three sons eventually took over. Since then it's continued to grow and increasingly become a bedrock business of the community.
That's why Baltz Construction was selected by the Chamber of Commerce at the business of the year.
"I was only 19 when I started," Baltz said. "I came home from college and got out in the sun and got working, I just put my head down and did it. To be honest with you, I just never looked back. I just loved the physical work of it."
Baltz Construction specializes cast-in-place concrete. In other words, Baltz workers go to a construction site and fill casts with concrete, rather than bring in pre-poured castings. 
Clients include schools and factories.
"If it's concrete, we do it," Baltz said. "We don't do a lot of residential work because that's kind of a different gear than what we're set up to do. We have bigger equipment with more overhead, so we don't do a lot of residential unless it's a large job."
Robert Batlz was working for the B.R. DeWitt Corp. driving a cement truck when it struck him that maybe that was the kind of work he could do for himself.
"He saw a lot of concrete being poured and thought it looked like an opportunity so he decided to give it a try."
He started out with small jobs on the side but by 1973, Baltz Concrete became his full-time job.
That's when Tom went to work for him.
In a couple of years, Robert Baltz bought the Howard Brown Precast Company and Tom's brothers went to work for him there and Tom ran Baltz Concrete.
When the precast company was sold to Kistner, Baltz Concrete became the business of Tom and his two brothers.  
When one of the brothers wanted out, Tom and his brother Nicholas decided to make James Logdson a partner.
"James was looking for a summer job when he came to work for Baltz Concrete," Baltz said. "He worked one summer, he graduated, but he impressed us a lot. I talked my brothers into chasing him down and making him an offer to come to work for us. That was in the 1980s. He's been with us ever since."
Baltz said the company has always valued its employees and they try to treat them right.
"We take jobs that are anywhere within an hour-and-a-half of Pavilion," Baltz said. "We don't go much further than that because we need our people to be home every night. We hire family men. It's important that we get them home every night to be with their families."
They also support some of their after-work hobbies. They might sponsor stockcar or go-kart or some other activity.
"You get involved with the people you work with in a ton of different ways," Baltz said. 
There's a lot of charity support flowing out of Baltz Concrete. They sponsor youth baseball, soccer, softball, Boy Scouts, Cub Scouts, the Pavilion Community Chest and the Arc of Genesee Orleans.
"Being part of the town and being in a position to do something, you feel like you have the opportunity to help and helping always makes you feel better," Bartz said.
Both Tom and Nicholas are married. Tom and his wife don't have children. Nicholas is a stepfather to the children of his wife, but he and his wife are also parents to three foster children they plan to adopt. 
"So he has many children," Baltz said. "He lives and breathes for them, that's for sure."
What makes the company successful, Baltz acknowledged, is its people.
"We're not like a factory," Baltz said. "There's not a lot of equity in equipment. Most of the equipment we use has little or no market value. When all is said and done, with this place, if we shut it down, there's more worth in the building and the driveway then there is in the equipment.
"With our company, it is the people who are the only real value."
That's why some of the best employees in the company, such as Logsdon, have become partners.
The two new junior partners are Jaret Geitner and Jeremy Trzieceski.
The best workers, Baltz said, are the ones who have a dedication to their job and take pride in what they do. Those are the people who get promoted.
"When you have pride, you do something right for its own sake," Baltz said. "You don't do it for your boss or for your company. You do it for your own pride. You can teach a guy to do a job right but you can't teach a guy to care about his job."
The guys who care are easy to spot, Baltz said. They're the ones who see the boss working with estimating software, so they go home and play with it just to see if they can figure it out. 
"You know who the ones are that wake up in the middle of the night and think, 'Wow, did I get that measurement right?'"
That's why those employees get a shot at being a partner.
"There is a self-motivation in certain people that you have to recognize because if you don't recognize those people, they will go someplace else quick enough."