February 19, 2016 - 9:27am
Batavia HS girls track team continues impressive run of sectional titles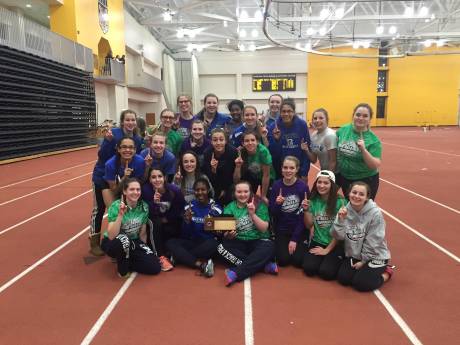 The Batavia High School Girls Track and Field Team won its 12th sectional championship Wednesday, scoring 154 points while second place Wayland-Cohocton had 67 points.
The boys team came in second at 105.5 points, just behind Greece Olympia, with 124.
Individual winners for the Blue Devils were: Katherine Wiseley in the weight throw; Rachel Denise in the pole vault; Maddi Moore in the 1500m race walk; and Sophia Dinehart in the 1500 meter. Other girls who had good performances were Maggie Cecere, Kiaya Franklin, Celia Flynn, Claire Zickl, Sam Cohen, Lizzy Cohen and Brianna Bromley.
"The Batavia girls were able to score in every event and had many solid performances and season-best times," said Coach Nicholas Burk.
For the boys, Anthony Ray continued his run of success this season by winning both the shot put and the weight throw.
Other boys who had good performances were Jaysen Wylie, Anthony Gallo, Campbell Andersen, Cal Jantzi, Louie Leone, Ian SanFratello, Nick Callisher and Mike Hughes. 
For complete results, click here.
Information and photo provided by Coach Nicholas Burk.