April 14, 2018 - 7:33pm
Batavia HS sweeps this year's Congressional Arts Awards for NY-27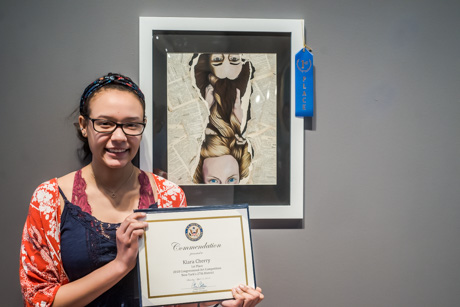 Students from more than a dozen high schools in the NY-27 Congressional District entered the annual Congressional Art Show and when the top four winners were announced at GCC this morning, all four students came from Batavia High School.
Kiara Cherry won top honors and her work, "Out from Underneath," will be displayed in the Capitol Building for 12 months and she will travel to Washington, D.C., for the show's opening.
Rep. Chris Collins was on hand for the awards presentations after visiting with the students in the Roz Steiner Gallery and viewing their work.
Runner-up was Tara Clattenburg and honorable mentions went to Stephanie Hoy and Sophia Dinehart.
The art show judges see only the pictures. They don't know the artists' names or what schools they go to.
Kiara said her work is meant to reveal how people are different and everyone has a story.
The work didn't come together easily. First, she spent nearly three months working on it and as she neared completion she spilled "a ton" of India ink on it. Rather than give up on the project, she reimagined it, using pages from an old dictionary to help frame the painting of the two girls in the picture.
"I had completely different plans," Kiara said. "It was just unbelievable how everything changed, and so quickly, but it actually ended up better than my original conception."
Ask what lesson she learned from that process, she said, "Not to be cheesy or anything, but it's like the Bob Ross quote, 'we don't make mistakes, just happy accidents.' That was a happy accident because it paid off in the end."
Kiara wasn't surprised BHS swept the awards.
"At Batavia, everyone there is so amazing and they work so hard for what they do," she said. "We all encourage each other and Mrs. A (Mandi Antonucci) is an amazing art teacher."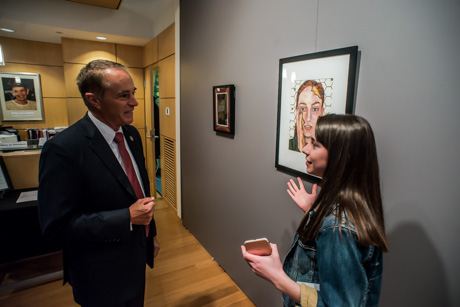 Sophia Dinehart tells Collins about her painting, which is a portrait with bees and a honeycomb. She is showing, she said, how we all have ideas and thoughts always buzzing around in our heads.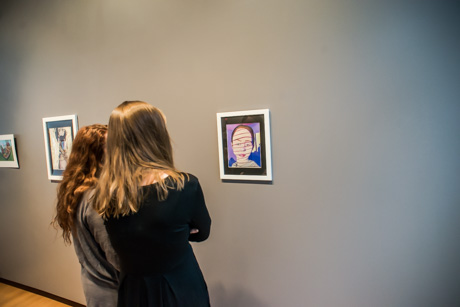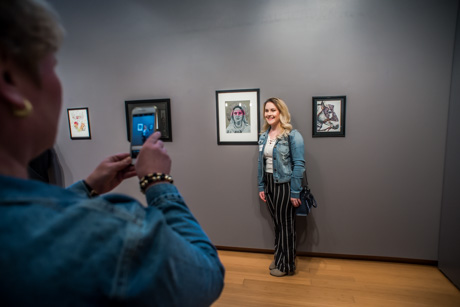 Stephanie Hoy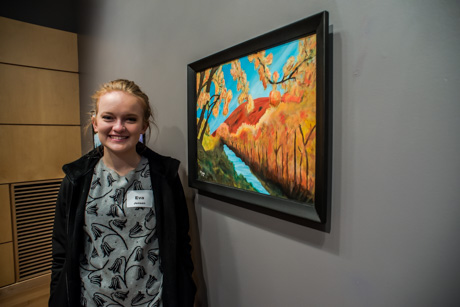 Eva Jensen, Perry High School, with a painting of a national park in Utah, where she once lived.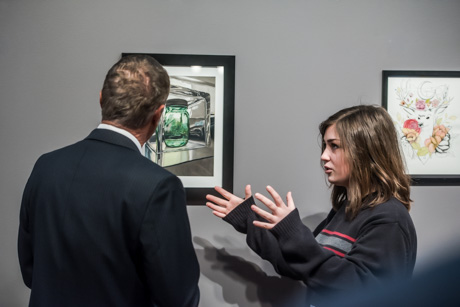 Tara Clattenburg