April 13, 2018 - 11:22am
Batavia's 'Babes on Blades' finish season with tournament win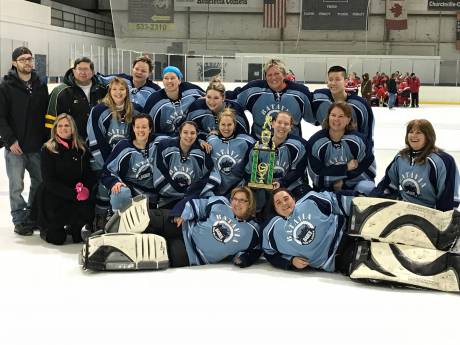 Press release:
The Batavia "Babes on Blades" women's senior hockey team finished off a strong season this year by competing in and winning the local annual Scottsville women's senior hockey tournament last weekend.

In the first game, the Babes were down 5 to 3 in the second period before rallying to win 7 to 6. The second game against the host Scottsville team was a defensive battle with the Babes scoring the first goal of the game with 3 minutes left in the third period. The Babes scored an open net goal at the end of the game for a 2 to 0 win. In the third game, the Babes team's offense exploded for 9 goals in a 9 to 2 win over Brockport.

The championship game ended up with a rematch against the host Scottsville team again. the Babes team scored early in the game and were able to maintain the lead throughout the hard-fought game for a 4 to 2 win.