February 10, 2016 - 5:27pm
Bergen fire to ready to roll new ambulance to serve the community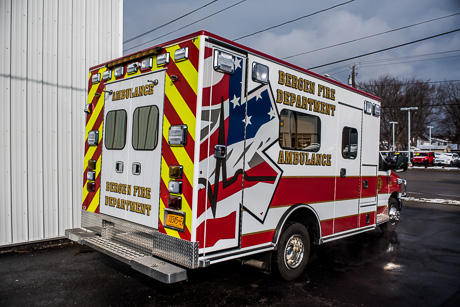 By this time tomorrow, the Bergen Volunteer Fire Department will have a brand-new ambulance in service.
It's a big moment for the department. 
The 2016 Ford Rescue replaces the ambulance involved in the crash Sept. 23 that took the life of Barry Miller.
"It's a wonderful moment for us," said Julie Donofrio, of the Bergen Rescue Squad. "We all do this to give back to the community. We, of course, wish Barry was here, but this was a push from the whole department and something Barry would be proud of. It's also something the whole community can be proud of."
Donofrio said the whole community has been so supportive of the department and that enhances the meaning of the moment.
"It means the world to us to have this ambulance on the road representing Bergen," she said. "For the department, for the community, to help provide (for) all the people of the community that we provide service to, it's a wonderful feeling."
The new rig is fully outfitted with the latest rescue technology, including touch screen systems to monitor patients and also has state-of-the-art safety equipment, from the brush grill and light bars to the interior accommodations for responders and patients.
The department has been using a loaner the past several months and Donofrio said the plan is for volunteers to arrive at the department and transfer equipment from that ambulance to this new one in the morning and then put the new rig in service.