March 19, 2022 - 5:36pm
Bethany Fire honors its best with annual awards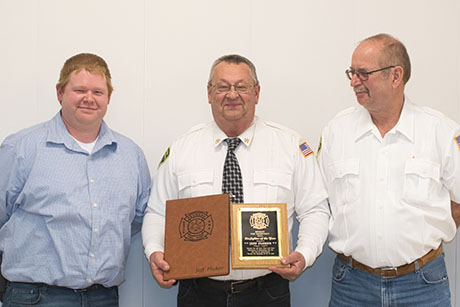 Photos and article submitted by Glenn Adams.
Earlier this month the Bethany Fire Department met for an annual dinner and awards event. In a year with over 200 service calls, this event highlights the time and sacrifice of volunteers who serve our community.
Jeff Fluker received the "firefighter of the year" award. Being a fire chief is a thankless job. It entails the visible time spent at fire and accident calls and the weekly Monday evening meetings. But there is also time spent planning, going to other meetings, filling out paperwork, and a host of other details in keeping a volunteer fire department going.
Top photo: Jamie Fluker, Jeff Fluker, and Jeff Wolak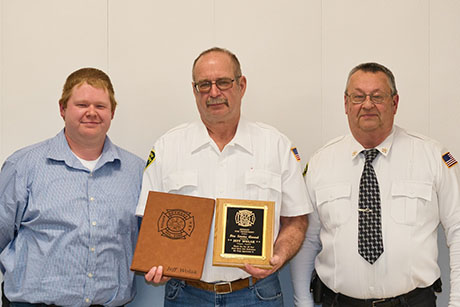 Jeff Wolak received our "fire service award".Jeff is the assistant chief, and likewise spends a great deal of personal time on fire department business above and beyond the regular meeting and service times. He works with the Chief going to meetings and planning the things that need to be done to serve our community.
Jamie Fluker, Jeff Wolak, and Chief Jeff Fluker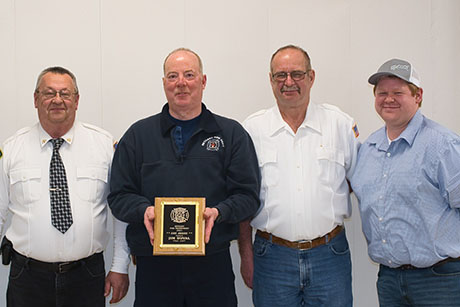 Jim Duval received the " EMS award". Tonight was Jim's last monthly meeting with the Bethany Vol fire company. Jim has been with us for many years. This past year was one of the toughest we have been challenged with. Losing our EMS captain Mel Davis, Jim took everything over that Mel had previously done. Jim and his family have decided to take another path in life and be closer to his family. We truly appreciate Jim's time, knowledge and dedication, along with his wife, Jane, for always understanding when he left for a fire call there was not telling what time he would be back.
Jim Duval with Chief Jeff Fluker, Jeff Wolak, and Jamie Fluker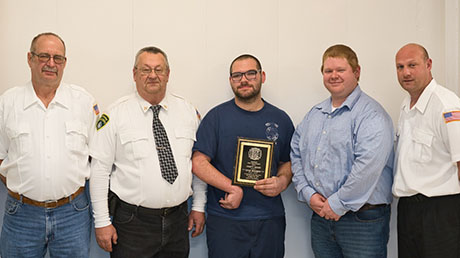 As always, we are looking for more volunteers. We always need EMTs, interior firefighters, fire police, there is a job for everyone! If anyone is interested in joining there is always training you can attend to become qualified!! Join today!
Jeff Wolak, Chief Fluker, Lyle Boundy, Jamie Fluker  and FD Captain John Szymkowiak.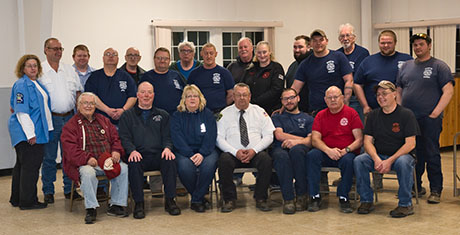 The Bethany Volunteer Fire Department.