December 2, 2015 - 1:12pm
BHS Drama Club presents three performances of adaptation of Peter Pan this weekend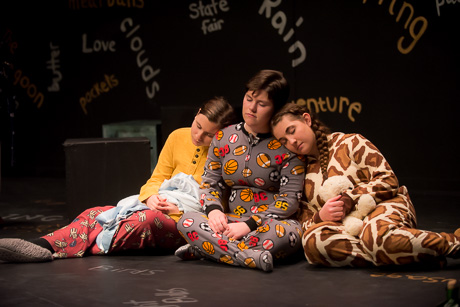 The Batavia High School Drama Club will present a special adaptation of "Peter Pan" called "Peter and Wendy" this weekend on the stage -- a theater-in-the-round setting -- in the school's auditorium.
The adaptation, by writer Jeremy Bloom, explores some of the deeper themes of "Peter Pan," including the relevance of time.
There are 28 students in the cast and four more working as stage crew. The production is directed by Caryn Burk.
Performances are at 7:30 p.m., Friday and Saturday, and 2:30 p.m., Sunday. Tickets are $8 for adults, $6 for students.
Pictured are: Shannon Cervone, Eryn Dunn, and Elise Hoerbelt as Lost Boys; Alex Mott as Peter, Chelsea Jensen as Tiger Lily and Sarah Wetzel as Tinker Bell.