October 18, 2018 - 4:02pm
BHS students planning event to honor veterans on Nov. 9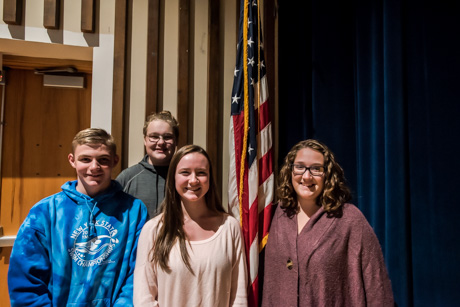 Students and staff at Batavia High School are hosting a ceremony honoring Genesee County's veterans at 10 a.m. Friday Nov. 9 at the school.
The ceremony will be held in the auditorium. There will be performances from the high school band and chorus, a student representative speaker, and a keynote speaker, and a reception after the ceremony in the school's library.
The ceremony is open to all local veterans and their families. Veterans who plan to attend should email Jane Haggett, [email protected]. Veterans are invited to include a picture with their response.
Photo: Students Cooper Mattice, Ryan Weaver, Elle Fulton, and Lyndsay Debo. Not pictured, Gyna Gibson, whom Haggett said was the real driving force behind organizing this year's event at the school.