September 20, 2018 - 9:41am
Bills rep shows up at flag football practice with gifts for players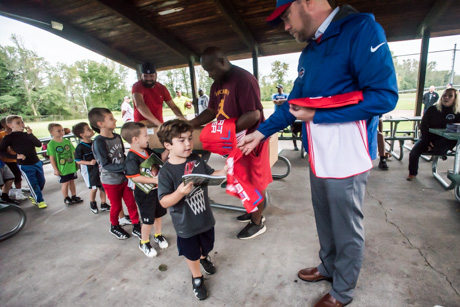 The players participating in the first season of youth flag football in Batavia got a special visit after their practice yesterday at Williams Park, Batavia, from Preston Teague, director of community relations for the Buffalo Bills.
Otis Thomas, one of the parents who organized the new league in Batavia, sponsored by the NFL, said Teague has been instrumental in promoting flag football youth leagues in Western New York, and has been helpful and supportive in getting the program in Batavia started. Teague said there are now 6,000 children participating in NFL-sponsored leagues in WNY.
Teague came with swag, handing out a few prizes to players who provided correct answers to trivia questions about the Bills, including a game football, an autographed hat, and an autographed cleat. All of the players also got other items including rubber footballs, yearbooks, towels, stickers and magnets.
Previously: Pair of football dads bring new NFL flag football league to Batavia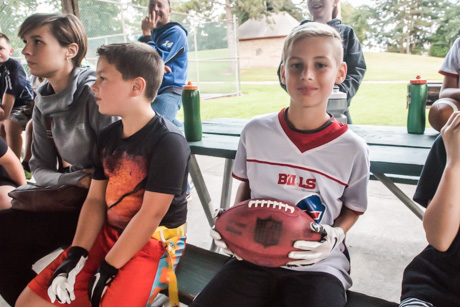 Carson Caton, 10, from Le Roy, won the game football, from the first game of the season, for knowing that Josh Allen is the highest drafted QB in Bills history.