September 1, 2018 - 1:15pm
Blue Devils easily knock off top-ranked Hornell in season opener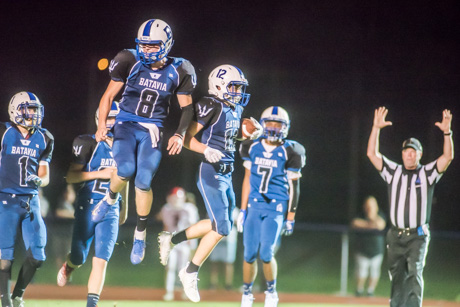 The Batavia Blue Devils have a message for the rest of Section V Class B: We're coming for the block.
They delivered that message loud and clear last night to #2 ranked Hornell (Batavia is ranked #1), the team that took the block (the Section V sectional trophy) from them in 2017, with a convincing 48-14 win at home.
The Blue Devils relished the win against a perennial Class B rival and Southern Tier powerhouse.
"It means a lot," said senior QB Ethan Biscaro. "To lose last year (in the Section V title game) and have them open up here at home, it couldn't have been any better."
The message the rest of the class might want to heed is the 2018 Blue Devils are more than their two-time All-Greater-Rochester star Ray Leach. This team has weapons in players like Biscaro, Alex Rood, and Cody Burns who can also chew up yards and put points on the board.
Batavia had 379 total yards on the ground. Rood carried the ball 13 times for 168 yards and a TD. Burns had five carries for 95 yards and a TD. And Leach ran 14 times for 88 yards and two TDs.
Biscaro was also 3-5 passing for 32 yards and a TD. Burns had the TD reception.
Head Coach Brennan Briggs can't deny he's excited by the talent on the team but he also pointed out, it's one game, it's early in the season, the team still has a lot to learn and improve on and if they don't improve every week they won't be able to handle the rigors of post-season play.
"I'm never going to get complacent with where we are I can guarantee that," Briggs said. "I'll be watching film tonight. I'll be watching it tomorrow morning. I'll be going down watching Lavonia a couple hours away tomorrow. So we'll we'll have his team ready to go next week and we'll fix our mistakes and hopefully get better every day."
Briggs is never going to come into a game expecting his team to lose, even against a team like Hornell, but he did not predict a blow-out win.
"I still don't know if the score tells the true story," Briggs said. "You know, as the season goes on we'll see. This is a great win. But you know it's going to be more important if we see them in the sectionals, sometime in the sectional tournament, to see if we play our best game against them."
Rood and Leach, along with Briggs, gave all the credit to the offensive line for the team's dominant performance offensively.
"They did a fantastic job and we're tough on them," Briggs said. "We're as tough on them as any of the positions on the team because we told them, 'hey you know you win or lose games up front.' They take pride in it. They're a brotherhood."
For Burns, a junior, this was a break-out game. At 5'6", he's one of the smallest players on the field but he plays big. And he's fast. He scored his TD on a busted play where the offensive line pushed left and he ran right. By the time the Hornell defense realized it was following the line and not the ball, it was too late. Burns was gone. Nobody could catch him. He streaked more than 60 yards untouched for a TD.
On defense, he started at linebacker. Yes, at 150 pounds, linebacker.
"On defense, he plays tough," Briggs said. "He's not big at all but he'll bring it. He's ready to go bust the wedge on kickoff or knock their teeth in."
This season was also a test for the home team. They had to show they could overcome off-season turmoil and focus on football.
A month ago, Leach and teammate Antwan Odom got into a fight on Ross Street. Odom is accused of pulling out a pocket knife and stabbing Leach at least 10 times, leaving him with eight wounds that required stitches.
Briggs said his players did a good job of keeping the off-field antics out of the locker room and off the practice field.
"Everybody really put it behind them," Briggs said. "It's an unfortunate thing, but you know we're here now and we're living in the moment and moving forward."
Leach said he's feeling much better and came into the game ready for the season.
"I just had to stay positive and lean on my teammates," Leach said. "My teammates picked me up and I just had to work hard and practice on whatever little things I can do."
Also in Genesee County football on Friday: 
Alexander beat York-Pavilion 50 to 12. Chris McClinic had 11 carries for 149 yards and 1 TD run and 1 kick return for TD. Terrez Smith rushed five times for 146 yards and three touchdowns. Ty Woods hauled in three passes for 64 yards and a TD. QB Dylan Busch was 6-7 for 81 yards and a TD. Jake Jasen had 19 tackles. He also rushed three times for 15 yards and TD late in the game.
Geneseo beat Pembroke 30-9.
Le Roy beat Avon 47-13. Le Roy's offense rolled up 413 total yards. Cineque Robinson had 11 carries for 113 yards and a touchdown, Jake Hill had eight rushes for 93 yards and two TDs, Kyler LaCarte picked up 62 yards on 13 touches and scored twice. Hill was 5-10 passing for  60 yards and TD. Anthony Leitte led the team with seven tackles.
Top Photo: Biscaro (#8) and Burns (#12) celebrate after Burns scored a TD on a busted play.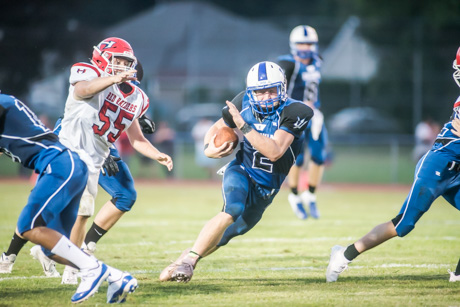 Alex Rood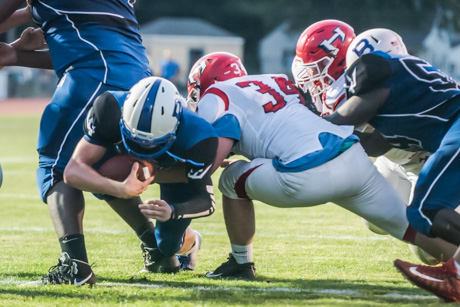 Ethan Biscaro scores.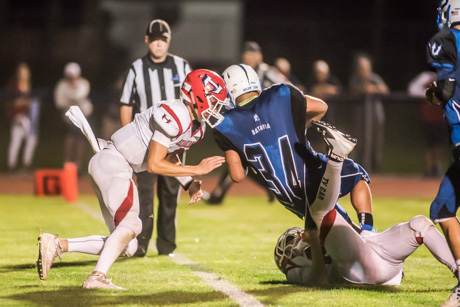 Ray Leach just about to cross the goal line on the second of his two TDs.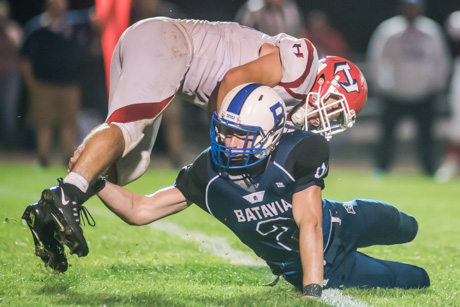 Rood with a tackle in the backfield. He had eight tackles to lead the team Friday.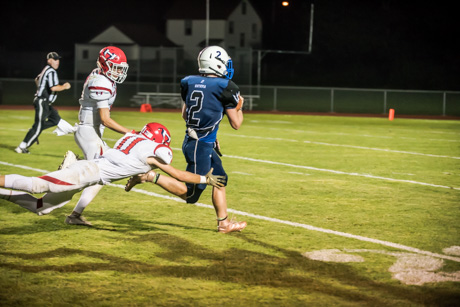 Rood breaks away for another TD.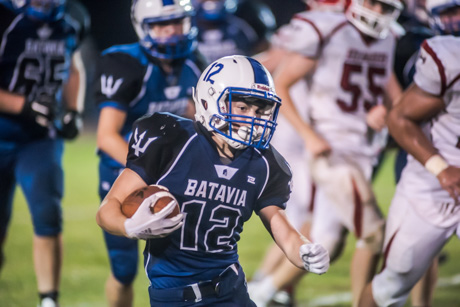 Cody Burns
To purchase prints for photos, click here.