November 22, 2018 - 1:01pm
Blue Devils tune up on Thanksgiving for biggest game of the year Saturday against Glens Falls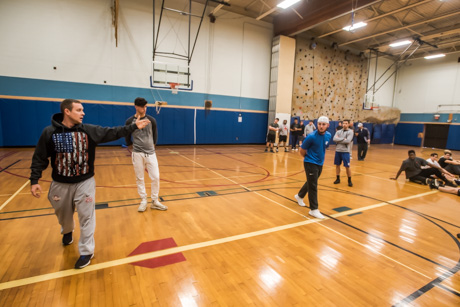 When you're a high school football player, it's something special to get to practice on Thanksgiving Day. It means only one thing. You're playing for a chance to win a state title.
The Batavia Blue Devils (12-0) held a walk-through practice this morning at the Batavia Middle School gym, rehearsing plays and defensive schemes in preparation for that championship match up with the Glens Falls Indians (10-2) at noon Saturday (Nov. 24) inside the Carrier Dome in Syracuse.
"It was a special thing to practice on Thanksgiving and my father and I always talked about it, saying, 'wow, you know, think about it, some high school teams are practicing today,' " said Head Coach Brennen Briggs, son of Section V Hall of Fame Coach Jim Briggs. "It's finally us, so you know the hard work has paid off with all these guys and we're excited to get out there on Saturday."
Batavia got to the state final by outscoring the #1 ranked Skaneateles Lakers 54-49.
That game was the first time all season the Blue Devils faced a standout, strong-armed, athletic quarterback, in Patrick Hackler. As they turn their attention to the Indians, they're again facing a top-ranked QB, Joseph Girard III, who has a 63-percent completion rate on the season.
Again, he's big and athletic (he's all-time leading scorer in Basketball for Glens Falls, with 3,306 career points, and just signed a basketball scholarship with Syracuse).
He's also not the only member of the Girard family on the team. He's one of six cousins from a family with 75 years of athletic history in Glens Falls.
Briggs said facing Hackler and Skaneateles definately helped his team be better prepared to defend against Girard and the Indians.
"Obviously it's a very good football team over there," Briggs said. "You know we're game-planning for their quarterback and their skill positions. It's going to be a tough test for us. I think we'll be up for the challenge and you know we're hoping to get another good day of work in tomorrow."
The game plan for Batavia will come as no surprise to Glens Falls Head Coach Matt Shell: Give the ball to Ray Leach and make the Indians stop him.
So far in the postseason, every other opponent of the Blue Devils has found that impossible.
Leach has 1,223 yards rushing and has scored 22 touchdowns over the past three games, including eight touchdown performances against both Cheektowaga and Skaneateles (state playoff records). He was handed the ball 50 times against the Lakers. He set a new state record (breaking his previous week's record) with 474 yards rushing. His 50 points scored is a playoff record for New York.
Leach also intercepted a Hackler pass on defense, with Andrew Francis snagging another key interception to open the third quarter and allow Batavia to extend its lead by two touchdowns for the first time in the game.
The interceptions, perhaps, made the biggest difference and highlight a weakness for high school teams that live by the pass. Even the best high school quarterbacks are more prone to turnovers than top running backs.
Batavia's big line will be ready to pressure Girard and with Leach, Francis, and Taiyo Iburi-Bethel in the defensive secondary, the Blue Devils have the tools to disrupt the passing game.
"If we do what we do by taking care of the football, as we've done, then it should be pretty good for us," Briggs said. "I think that we've got some guys out there that are hungry to get the football once it's in the air so hopefully we can put some pressure on him, contain him, and create some turnovers."
At the end of today's practice, Briggs and his coaches told their players -- enjoy Thanksgiving with their families, be thankful for what they've got, recognize the unique position they're in -- a chance to play for a state championship, take care of themselves and be ready to go on Saturday. 
If you're not attending the game, you can listen to the WBTA broadcast (UPDATE: WBTA will stream the came on WBTAi.com) or check The Batavian for updates.