September 12, 2018 - 12:05pm
Bob Boyce named Le Royan of the Year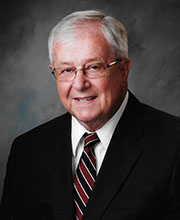 Press  release:
Botts-Fiorito Post #576, American Legion, Le Roy, would like to announce with great pride and pleasure Robert Boyce as its selection for the 2018 "LeRoyan of the Year Award."

Robert, or "Bob" as he is known to most, was born in Hamburg and graduated from Hamburg High School. Upon completion of high school, he joined the Army and served in Korea, after which he was honorably discharged. He then continued his education at The University of Buffalo.

Bob came to Le Roy with his family in 1968 to join the Ernest Townsend & Son Insurance Agency, now known as Tompkins Insurance Agencies. He and his wife, Beth, have three children, daughters Ann (Alan) Nordyke, and Tracey (Jim) Carter, and son David Boyce. They also have six grandchildren.

Bob immediately became active in the community by first joining the Le Roy Jaycees. Today, he continues service with the Le Roy Rotary Club, where he has been active for 45 years and served as president in 1975. The R.E.A. Milne Scholarship arm of the Rotary is of special interest to him.

He was president of the Genesee Community College Foundation for three years, was appointed a trustee of GCC by the Genesee County Legislature in 2014, and presently serves as vice-chairman on the Le Roy Republican Committee. Bob is also one of two trustees of Our Lady of Mercy Catholic Church.

Bob has also been a member of the board of the Le Roy Ambulance Service for 27 years and has been president for the past 13 years. One of his goals for the ambulance service is to make sure it continues to be a viable service in our community with quality pre-hospital care.

To honor Bob, the 50th annual LeRoyan of the Year Award Dinner will be held on Oct. 6. Social hour is at 6 p.m. with dinner served at 6:45 p.m., at the American Legion at 53 W. Main St., Le Roy.  Tickets are available at the American Legion or at Mickel's Nickels at 80 Lake St. Le Roy. Cost is $25 per ticket.