August 12, 2015 - 10:04am
Body of man found in creek identified as Batavia resident
posted by
Howard B. Owens
in
batavia
.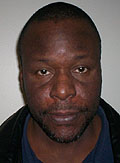 Troy Hickman
The body of a man found Friday in the Tonawanda Creek has been identified as Troy M. Hickman, 49, of 200 Lehigh Avenue.
Hickman was identified after family members reported him missing during the course of the investigation into the discovery of the body in the creek behind Kibbe Park.
Due to the condition of the body, the Monroe County Medical Examiner's Office relied on dental records to confirm a positive identification.
The cause of death or timing of his death remains undetermined.
Batavia PD detectives are trying to piece together a timeline of Hickman's activities prior to his death.
Additional medical tests by the ME's office that may assist in the investigation could take several more weeks.
Batavia PD said no further information would be released based on the ongoing nature of the investigation.