May 18, 2018 - 2:26pm
BREAKING: Man charged with murder in stabbing death on Central Avenue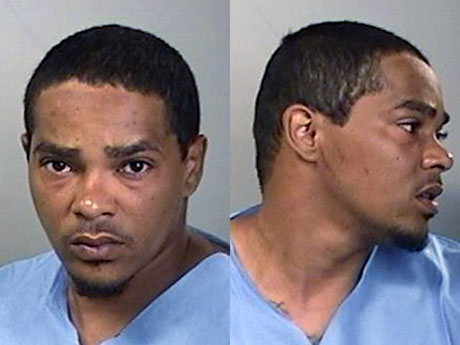 Nathanial D. Wilson Jr., 30, with a last known address on Chestnut Street, Batavia, has been charged with murder in the second degree in the stabbing death last night of Terry J. Toote, 41, of West Main Street, Batavia.
Toote suffered a knife wound to the center of his chest. Wilson suffered a gunshot wound to his leg.
Police are looking for the suspected shooter. There is a person of interest police would like to interview.
Det. Eric Hill said he couldn't comment on whether any weapons were recovered.
After Toote was stabbed, other people in the area came to his aid. People were yelling "call 9-1-1, call 9-1-1" and a citizen started performing CPR and continued CPR until Mercy EMS arrived on scene.
Police have not said what precipitated the confrontation last night but don't believe it is connected to an incident a couple of nights earlier where a group of people were jumped by a number of other people, at least two with baseball bats and one person with a gun.
Toote has a criminal record. He was recently released from state prison on a conviction for attempted sale of a controlled substance. He was charged in Orleans County. That was a second felony offense for Toote, according to Orleans Hub. He was arrested in Batavia in 2014 on a harassment charge.
We haven't been able to confirm yet whether Wilson had any prior arrests.
The incident started some time before 11:30 p.m., Thursday. A witness who lives on Pringle Avenue said she heard people walking down Pringle talking loudly. One said, "I apologized. I apologized." When the group reached Pringle and Central, she said it sounded like the argument escalated, then she heard three gunshots. She said when she looked down the street she saw an SUV leaving the scene quickly.
Another witness said there was a car parked on Highland and the driver yelled, "They shot my boy. They shot my boy." And then that vehicle left.
Toote was pronounced dead at UMMC by County Coroner Donald Coleman.
While Wilson was being treated at UMMC, investigators developed information that indicated Wilson was allegedly responsible for stabbing Toote. Once he was released from medical care, he was taken into custody and then arraigned this morning in City Court on the murder charge.
Shortly after midnight, there was a disturbance at the hospital. Family and friends of Wilson and Toote were involved, according to police. The hospital went on lockdown as a precaution. There were no weapons displayed or threatened. The parties were separated. No charges have been filed.
Central Avenue has been a hotspot of disturbances recently so just about 24 hours before the stabbing and shooting, police activated a recently installed camera, which became critical in gathering evidence for this case.
"Due to these issues, the Department installed a video surveillance camera in the area and had the street lighting enhanced," Batavia PD said in a statement. "The street surveillance camera was instrumental in this investigation. The Department has also received several other videos showing the incident from witnesses who will remain anonymous. These, too, were instrumental in aiding in this investigation."
The case is under active investigation and Hill said police have been busy following up on leads.
From the press release:
The Department would like to thank the New York State Police, Genesee County Sheriff's Office, the Genesee County Local Drug Task Force, New York State Department of Environmental Conservation (ENCON), City of Batavia Fire Department, Mercy Medics and Genesee County District's Attorney's Office.

Anyone with information in reference to the case may contact Detective Thad Mart at 585-345-6372 or the Batavia Police Department at 585-345-6350, the confidential tip line at 585-345-6370 or online at http://www.batavianewyork.com/police-department/webforms/report-suspicio....

More information will be released at the conclusion of the investigation.
CORRECTION: We initially pubished the suspect's name incorrectly. The correct last name is Wilson. The story has been corrected.