October 5, 2018 - 1:29pm
BREAKING: P.W. Minor shut down this morning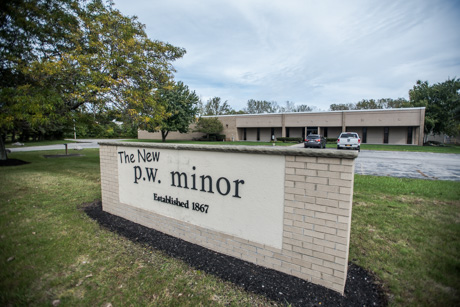 At 10 a.m. today (Oct. 5) Batavia's oldest continuously operating company, shoemaker P.W. Minor, ceased operations. Forty-two workers were laid off last week; 40 people lost their jobs today.
Local businessman Pete Zeliff, who, in partnership with Andrew Young, acquired P.W. Minor in 2014, still owns the company's headquarters and factory building at 3 Treadeasy Ave., as well as the production equipment. He was leasing the building to Tidewater + Associates. Zeliff carried the paper on the loan for Tidewater's purchase of the company earlier this year.
This afternoon, Zeliff said he foreclosed on the company last week.
Last week, P.W. Minor CEO Hundley Elliotte announced the company would eliminate 45 jobs, ending production of its welt boot line, but would continue with orthopedic shoe production.
This morning's decision to shut down the company completely came as a surprise to everybody.
Zeliff said he has no plans to reenter the shoe business, but he said there is some hope that investors can be found to resurrect at least the orthopedic line of shoes, and perhaps the boot line, and he believes Tidewater is working on finding new investors. We were referred to Elliotte for any questions about the future of the company.
We have an email out to Elliotte requesting comment.
This afternoon a customer of P.W. Minor's forwarded an email to The Batavian from Brian Benedict, VP of sales for P.W. Minor, that read, "I regret to inform you that as of 10AM this morning, PW Minor has ceased operation. There will be a formal announcement via email, but since you are drop ship customers who rely on us, I wanted you to know as soon as possible so you can modify your sites accordingly."
UPDATE -- Press release:
P.W. Minor LLC, a Batavia, NY footwear manufacturer, has ceased operations as of today and laid off all employees.

All assets of P.W. Minor LLC, have been transferred to our senior creditor Batavia Shoes LLC, per an agreement signed today. 

"Our focus through this entire process has been on our employees' well-being. We want to thank them for their dedication, loyalty and hard work." said P.W. Minor CEO Hundley Elliotte. "We would also like to thank the NYS Dept. of Labor, the Genesee County Workforce Development Board and the local business community for their responsiveness and offers to help get our affected employees back to work as soon as possible.."

P.W. Minor, founded in 1867 and located in Batavia, New York, is the second oldest footwear manufacturer in the United States and the maker of orthopedic and diabetic athletic, dress and casual shoes.
October 8, 2018 - 8:08pm
#1
My aunts Kate and Peg worked at P. W. Minor on State Street for 30 and 40 years. Neither of them drove so for all that time they got rides from coworkers or took the city bus. Another Batavia business gone.