Image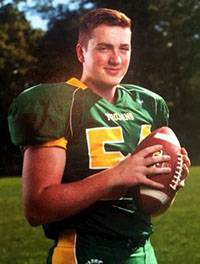 Brian West Jr. 2000-2017
Brian West Jr. loved people, and people loved him, according to Tim Sawyer, head coach of Alexander High School's football team.
He packed a lot of living into his 17 years, Sawyer said. Friends, family, and football.
Early this morning, Brian West died at Strong Memorial Hospital from injuries sustained in a single-vehicle rollover accident on West Bethany Road on the Bethany/Alexander town line, just yards from his home.
Sawyer wasn't just Brian's coach. He had known him his entire life. Sawyer and Brian's father grew up next door to each other, were best friends and Sawyer also knew Brian's mother since high school and Brian's grandmother is Sawyer's neighbor.
Besides football, Brian liked to hunt and fish and ride ATVs, just like Sawyer and his dad when they were growing up together.
"He was a lot like his dad in that way," Sawyer said.
Brian was one of the nicest kids you could meet.
"I think his relationships meant a lot to him," Sawyer said. "His friends, his teammates, his family. He always had a smile on his face and wanted to have a good time while he was around people."
He was part of the Trojan's first-ever Section V champion team last year. He planned to pursue a career in law enforcement. (Click here for his obituary).
The cause of the accident is under investigation, and with Brian's death, it may be hard to determine. As of last night, investigators said there were few clues at the scene.
Brian was northbound on West Bethany Road and lost control of his Chevy Avalanche after coming over the crest of a hill. The truck swerved, partially left the roadway on the west shoulder, and as Brian seemed to bring it back to the road surface, it flipped over. It may have rolled over twice. Brian was ejected and landed in a neighbor's driveway. He was alert and conscious when first responders arrived and that seemed to provide hope to everybody at the scene that he would survive the crash.
He died this morning at Strong at 5:20 a.m.
Brian was a good football player, Sawyer said. He excelled as a defensive lineman but played mostly as an offensive tackle this past season because of a pre-season ankle injury. Sawyer said he was too valuable on offense to risk playing both ways every game.
"He was almost like a Dustin Schmieder type of kid," Sawyer said. "He wouldn't have come off the field this year for me."
Recently Brian ran a 4.96 40-yard dash.
"We were looking at him possibly playing tight end for us this year," the coach said.
Brian loved athletics and he loved to compete, Sawyer said.
The Alexander football team works out together in the weight room during the offseason, and tonight is no exception.
"We're a really close-knit community and our team is no different," Sawyer said. "As a team, we'll try to wrap our hands around this and I'll talk a little bit about life and how we all leave a legacy, if it's a good one or if it's a bad one. We all have got to make our time count. That's going to be my message to the boys. I'm going to tell them I love them. We lost a big part of our team today and as young men, as men, we've got to be able to deal with that stuff."
Sawyer also spent time today with Brian's parents. Before he went to their house, he said, he spent some time thinking about what he could say. It's hard to know what to say, he acknowledged.
"I said to Brian Sr., 'If God would have said 17 years ago, I will give you a son for 17 years and them I'm going to take him home, I think we would all take that deal if that were a good life, a life worth living,'" Sawyer said. "Maybe that's not the right perspective. I don't know. But he had a good 17 years."
Life doesn't always work in a storybook fashion. Not everything continues along perfectly, Sawyer said. 
"As sad as it is, I choose to focus on the positive," Sawyer said. "The boy had a great life. Yes, it's cut short, but he didn't get cheated out of his 17 years."