April 15, 2018 - 6:56pm
Buffalo-based 2nd Amendment attorney says gun-rights advocates should seek out allies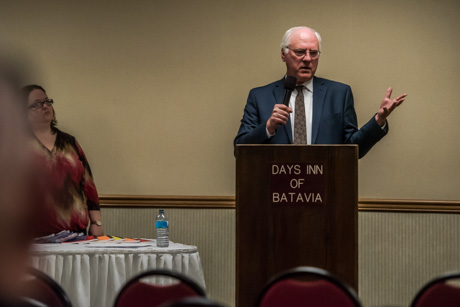 If gun owners are going to preserve their right keep and bear arms, they're going to do more than just complain about the progressive agenda to confiscate all firearms. So said Second Amendment Attorney Jim Ostrowski at a grassroots meeting of gun rights advocates at the Days Inn in Batavia today.
They're going to need to find allies.
Potential allies include those, he said, who think recreational drug possession should be legal.
"Guns are drugs are the same issue, if you think about it," said Ostrowski, a resident and political activist in Buffalo. "They're both private property."
He said there was a time in this country when there was no thought of restricting either guns or drugs but progressives wanted the power to control other people's lives.
Another potential ally, the #metoo movement. Women should naturally want the right to the self-protection a gun provides, he said.
"What does the government monopoly want a woman do when assaulted?" he said. "Call 9-1-1 where a criminal historian can record the assault."
Native Americans, given the history of government atrocities against them, should also be natural allies of gun rights advocates, he said.
Those whose ancestors were slaves, he said, should also be natural allies of gun rights advocates. He noted that recently progressive historical revisionists have said the only reason early America had militias was to guard against potential slave revolts. He said those who spread that as historical fact ignore the fact that militias existed where there wasn't slavery and that one reason slavery could even survive was that slaves were prohibited from owning firearms. The ancestors of slaves should be among the strongest allies for gun rights advocates, he said.
Among the chief reason to preserve the Second Amendment, Ostrowski said, is because progressives want to take guns away from citizens, which would make it easier for tyranny to take hold in this country.  
While the left wants to disarm citizens, they love a government with guns, he said.
"They love guns so much, they want to be the only one with guns," Ostrowski said.
Among his recommendations for activists is convince schools to start teaching students once again about the Second Amendment, its history and its meaning.
"They don't teach the Second Amendment in school," Ostrowski said. "That's crazy. That's why students are out protesting."
People shouldn't think, he said, the United States is necessarily immune from the potential of tyranny.
"Every race we know about has committed mass atrocities," Ostrowski said. "The whole of history is filled with examples of mass murder by the state. The Framers were well aware of this history, that only armed citizens can protect against tyranny. The Second Amendment works against tyranny. That's why the left so desperately wants the entire civilian population disarmed."
April 15, 2018 - 7:06pm
#1
So, I couldn't say anything today, but the whole time I was taking notes I was thinking: tyrannies don't just start with progressives or leftists. The 20th Century provides plenty of examples of right-wing dictatorships.
The Roman Republic fell after Julius Caesar crossed the Rubicon not to instill a communist utopia but to preserve his own power and protect the elite ruling class from plebeian reforms.
Tyranny comes in all shapes and forms and knows no ideology.
When dictators rise, it isn't the guns they come for first. They first come after the free press and start locking up and killing journalists. Look at what Erdoğan is doing in Turkey.
I fear rightist populists as much as I fear leftist socialists.
So my question for those on the right, if a rightest leader declares himself "president for life" and starts coming after a free press, are you going to use your guns to protect my First Amendment right to publish what I want?
If you want to talk about natural allies, a natural ally for advocates for the Second Amendment are advocates of the First Amendment, because as sure as fire is hot, there will be no Second Amendment without the First.