December 9, 2015 - 11:31am
Byron-Bergen implements rapid responder program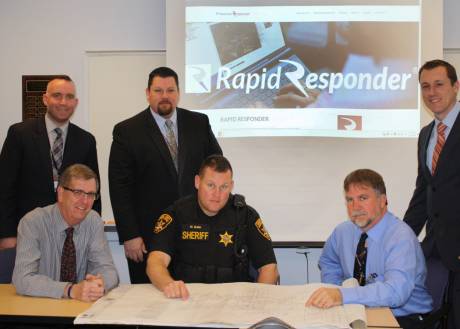 Press release:
Byron-Bergen Central School District continues to value that our most important priority is keeping our students and staff safe," said District Superintendent Casey Kosiorek. To that end, the District has added the New York State Sheriff's Association (NYSSA) Rapid Responder® Program to their crisis management and emergency preparedness plans.

The new program uses cutting-edge technology to give school personnel and all first responders immediate access to emergency response information, enabling clear communication and quick, coordinated action. 

Rapid Responder is an all-hazards site-based crisis management system that is used in schools nationwide and Canada. The system brings school officials and first responders from diverse agencies together on a single digital platform, giving everyone instant access to site-specific emergency response information, including floor plans, aerial views, hazardous material locations, utility shut-off information, evacuation plans, and live camera feeds.

Byron-Bergen CSD Director of Facilities Michael List said, "We are expanding the dialogue between the District and responders from local law enforcement, fire and medical departments. We have already found areas for improvement that will enable responders to better handle many emergency scenarios in our schools. The new Rapid Responder system helps make that possible."

List added, "We recently completed detailed site visits and are now reviewing all the data. The next step in implementation will be training and drills with local responders based on different emergency and daily security situations to test all portions of the system."

Implementation of the Rapid Responder Program is part of the District's solid commitment to safety and security in the schools. Current security for the District includes a comprehensive visitor management system, Raptor®, in all three schools and the District Office, which is used for visitor background checks, as well as for generating ID badges. A large security camera system oversees buildings and grounds, and will now be tied into Rapid Responder using their capability to integrate IP-based cameras. The District also recently welcomed School Resource Officer Matt Butler to the staff.  

"In a world of seemingly increased violent incidents, we are proud to put an additional measure in place to ensure everyone's safety," Kosiorek said. "I want to thank our team — Mike List, Transportation coordinator Drew Doll, School Business official William Snyder, the building principals, and Deputy Butler for all their work with the overall safety of the organization, and most recently with the implementation of the NYSSA Rapid Responder Program."

Rapid Responder (http://www.preparedresponse.com/New-York-Sheriffs-Rapid-Responder-Progra...) is currently deployed in over 16,000 facilities nationwide and is SAFETY Act Certified by the U.S. Department of Homeland Security.

Caption: The administrative team at Byron-Bergen CSD begins work on implementation of the new Rapid Responder system. Standing (l-r) Jr./Sr. High School Interim Principal Patrick McGee, Superintendent Casey Kosiorek, and Elementary School Principal Brian Meister. Sitting (l-r) Transportation Director Drew Doll, School Resource Officer Matt Butler, and Director of Facilities Mike List.
December 10, 2015 - 12:30pm
#1
I can't imagine why ALL schools are not on-board with this program.
However, let's not delude ourselves into thinking this is a cure-all option. Why is the obvious benefit of armed security persons in ALL schools continuing to be shunned?
When seconds count, the police are just minutes away.
December 10, 2015 - 3:40pm
#2
I have to agree Brian.... Look at where our NY politicians and Our federal politician do business. They have armed guards and I don't think there has been many shootings in these places. I sure wish that one of these wack jobs would attempt to do his suicide shooting or bombing in one of these locations, especially Albany. Bet we'd see a reversal of the "Safe Act" real quick.